Lady Dior vs. CHANEL Classic Flap vs. Gucci GG Marmont Bag: Which is the Best Investment for 2022?
The beauty of a great designer bag is that they are inherently versatile, so you never have to worry about what to match them with. Regardless of your personal style, it's the ultimate accessory of choice. There are plenty of bags and brands will still look current and stylish in five or ten years time. Lady Dior, CHANEL Classic Flap and Gucci GG Marmont bag are three most popular designer handbags for girls, but which one is the best one to invest? If you like to invest in high quality handbags with great craftsmanship and you want a bag to last a long time. You can have a look at this comparison guide of these three brands from history, price, style, materials and sizes!

[[copyrightcover:Dior & Chanel & Gucci]]
Brand History and Origin
Christian Dior is synonymous with feminine beauty and classic, timeless fashion. The House of Dior was established in 1946 at 30 Avenue Montaigne in Paris. An internationally renowned brand since established, the French fashion house acclaimed for its elegance and timeless femininity.
A leading company that has remained at the top of fashion's hierarchy for over 70 years, Dior's unique look has influenced the world of fashion since the beginning. Innovative but traditional, Dior maintains its reputation as creator of recognized haute couture. From their ready-to-wear fashion, leather goods, accessories, or footwear, Dior changed the game forever. To this day, even with its many different creative directors over the years, one thing stays the same. Dior will keep surprising us with its designs, yet stay delicate, sophisticated and intriguing, always keeping us on the edge of our seats.
Made by designer Christian Dior dates back to 1995 and originally named 'Chouchu' (which means 'Favorite' ), Dior's Lady Dior was soon renamed after Lady Diana, Princess of Wales.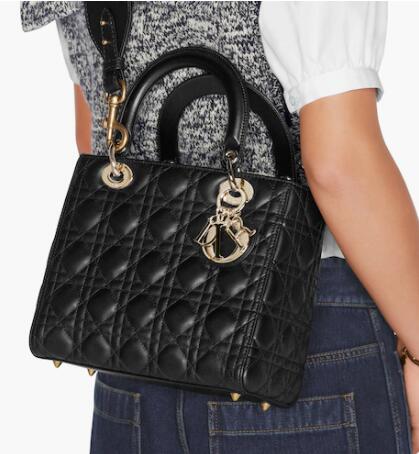 [[copyright:dior.com]]
Official Price: $3500 - $6100
Design & Style
The bag is most commonly decorated with cannage pattern, adopting one of the houses' integral graphic codes. The cannege was inspired by the Napoléon III chairs once used by Christian Dior to welcome his customers into his atelier on the date of his first show in 1947.
With its structured silhouette, and sturdy top handles, the Lady Dior also features the letters D, I, O, R on charm pedants as an eternal signature. Today's versions of the Lady Dior bag offer playful charms to personalize the bag to your liking along with a wide shoulder strap which gives a more effortlessly wearable vibe. There are different hardware options, and materials differ from leather to embroidery. Over the years, countless iterations of the Lady Dior have been released that are made with calfskin (printed, beaded, embroideredstudded, crinkled), satin, or denim.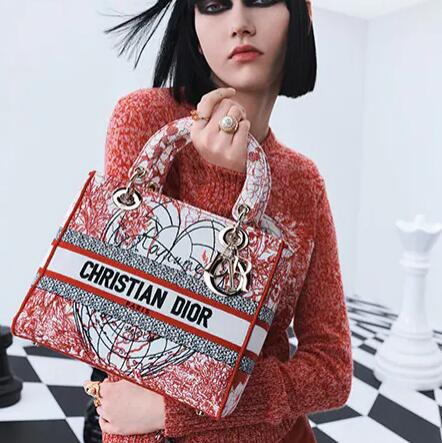 [[copyright:dior.com]]
Material
Composed of 144 pieces total, and the hardware alone is constructed from 43 metal parts, the Lady Dior bag was inspired by everything couture, hence the luxurious quality. Each Lady Dior is crafted by hand. Commencing with manual cutting out of the leathers, the pieces are then assembled and moulded around a wooden form, finally it is meticulously sewn together. A timeless elegance exudes from the soft lambskin and rounded handles, along with the topstitched Cannage motif.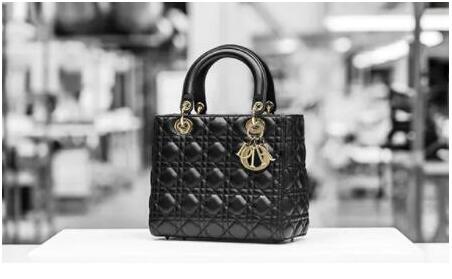 [[copyright:dior.com]]
Size & Colors
There are a lot of colors to choose - Cloud Blue, black, red, rose, tundra green, steel blue, latte, raspberry, gray, etc. Its sturdy boxy construction makes for a super spacious inside that is the perfect size for carrying all daily essentials. Available in four different sizes: micro, mini/small, medium and large, typically comes with an optional shoulder strap.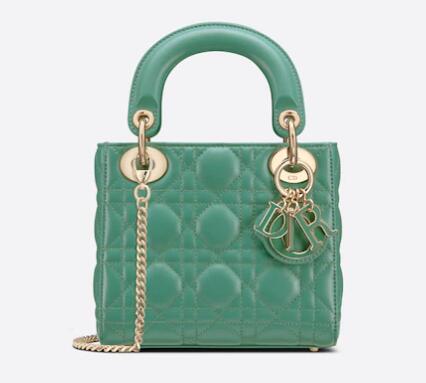 [[copyright:dior.com]]
Lady Dior Bag Sizes:
| | |
| --- | --- |
| Lady Dior Mini | 17 x 15 x 7 cm |
| Lady Dior Small/MyABC | 20 x 16.5 x 8 cm |
| Lady Dior Medium | 24 × 20 × 11 cm |
| Lady Dior Large | 32 × 25 × 11 cm |
Where to Buy Lady Dior bag the Cheapest?
dior.com (8-10% cashback)
24S (4-5% cashback)
Vestiaire Collective (7.5-9% cashback - second-hand bag)
Money Saving Tip: If you like online shopping, don't forget to sign up at Extrabux!(What is Extrabux) , then you can enjoy up to 30+% cashback on your purchase from Extrabux! Sign-Up Bonus: Free to join it & get $20 welcome bonus! Student Benefits:As long as you are a student at school, you can get a free whole year long VIP Card worth $199.
Brand History and Origin
Chanel is a French luxury fashion house that was founded by couturière Coco Chanel in 1910. It focuses on women's ready-to-wear clothes, luxury goods and accessories. The story of the Chanel Flap Bag starts in February 1955. As a brand Chanel always stood for comfortability, so Coco decided to create a bag that would allow women to keep their hands free while carrying a bag - 2.55. Chanel used colors traditionally associated with masculinity in Europe, such as grey and navy blue, to denote feminine boldness of character.
Adapted from Coco Chanel's 2.55 flap bag by fashion mogul Karl Lagerfeld in 1984, the Chanel Classic Flap is arguably one of the most iconic luxury bags in fashion history.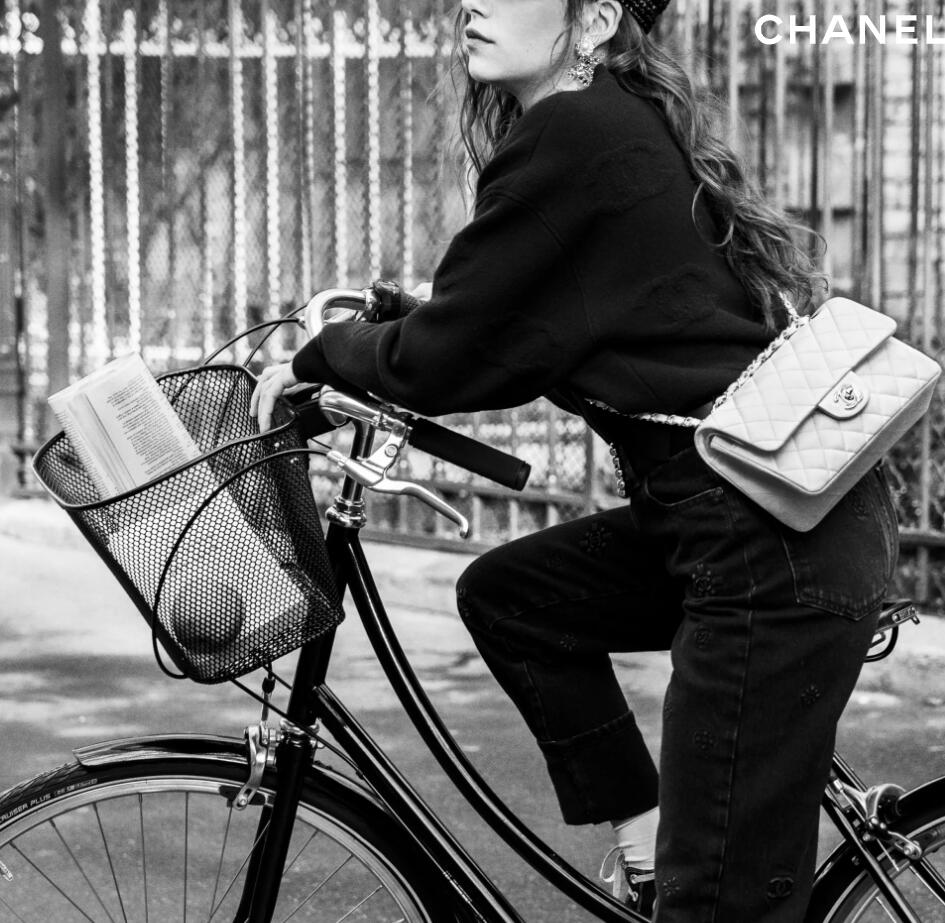 [[copyright:chanel.com]]
Official Price: $4100-$10500
Design
Any Chanel Classic Flap Bag has a number of recognizable design features. they are square or rectangle shaped, and can be closed with a flap and lock. Most flap bags will have a double flap; however, some sizes and shapes are only available with a single flap. There are two different compartments, the main compartment has three slip-in pockets: two small, and one bigger pocket.
Karl Lagerfeld made one notable addition - the CC lock which is a feature on the Classic Flap. Besides the lock, the two also differ in chain. This style revitalized decades of Chanel heritage when Karl conceptualized the iconic CC lock and metal strap intertwined with leather. The timeless Classic Flap Bag has a modern radiance.
The last exterior feature to note is the small patch pocket on the back. Said to have been inspired by Coco's love for Mona Lisa (hence the slightly curved upper edge), the pocket was intended to hold small change.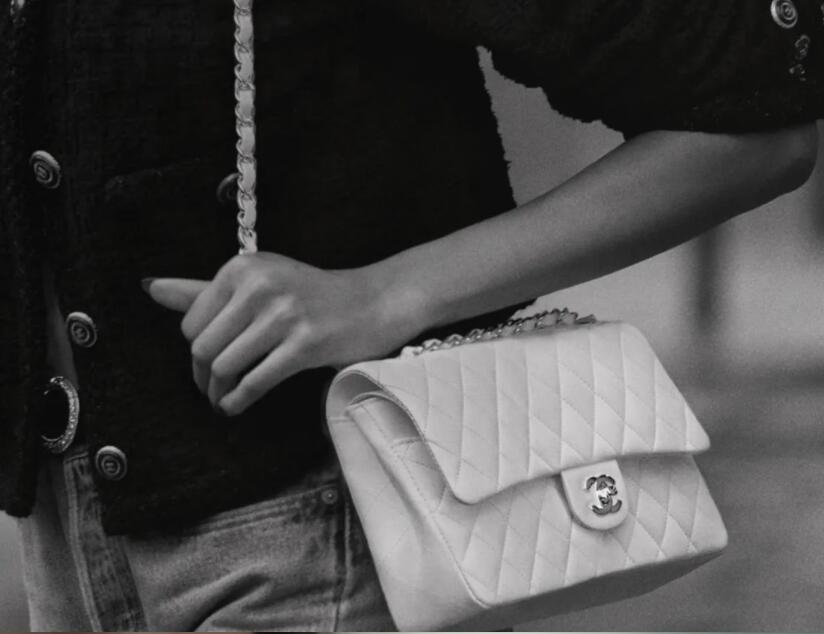 [[copyright:chanel.com]]
Material
The Chanel Classic Flap bag comes in various leathers, but the two most popular are caviar or lambskin. Some people prefer the caviar leather because it's so durable and can handle more wear and tear. The leather is pebbled and maintains its structure well because of the rigid nature.
If you're looking for something more special, there are also less-common materials available. Cotton, transparent plastic, tweed, or even some exotic leathers are to be found. However, in 2018 Chanel announced that they will stop using exotic leathers like crocodile, snake, and lizard.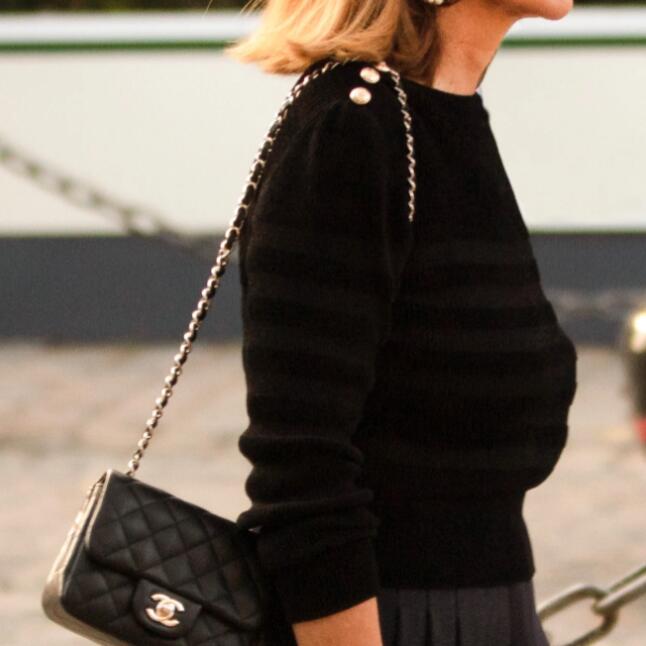 [[copyright:chanel.com]]
Size & Colors
The black caviar leather with gold hardware is the most signature Chanel aesthetic for this bag, but there are also other popular colors like beige, brown, navy, pink, white and more.
It's also one of the most prolific Chanel bags because it is offered in a multitude of sizes: Mini, Small, Medium, Large/Jumbo and Maxi. However, only the Mini, Small, Medium, Large or Maxi are now considered part of the permanent collection and are therefore easier to procure on a regular basis. The smaller sizes are sleek companions for your dinners and black ties, whereas the larger options make for great everyday carry bags or travel bags.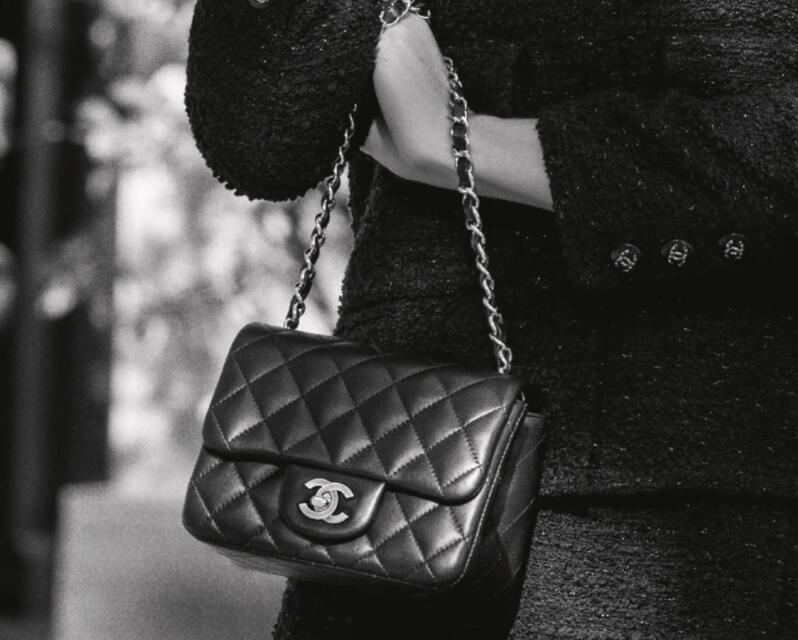 [[copyright:chanel.com]]
Chanel Classic Flap bag sizes:
| | |
| --- | --- |
| Chanel Timeless Classic Flap Bag Mini | 16,5 x 14 x 6,5 cm |
| Chanel Timeless Classic Flap Bag Small | 24 x 14,5 x 6,5 cm |
| Chanel Timeless Classic Flap Bag Medium | 25,5 x 16 x 7,5 cm |
| Chanel Timeless Classic Flap Bag Jumbo | 30 x 20 x 10 cm |
| Chanel Timeless Classic Flap Bag Maxi | 33 x 23 x 10 cm |
Where to Buy Chanel Timeless Classic the Cheapest?
farfetch.com (Up to 4% cashback)
vestiairecollective.com (7.5-9% cashback - second hand bag)
Gucci GG Marmont Flap Bag
Brand History and Origin
Gucci, the brand originating in Florence, Italy and founded in 1920 by Guccio Gucci. With the first store opening in 1921 on Via Vigna Nuova and then later on Via del Parione, The House of Gucci was born. Initially the brand produced primarily leather goods, as well as premium knitwear, silk goods, shoes and handbags. The Gucci logo could perhaps be regarded as the most recognizable in terms of luxury branding.
Aldo Gucci, son of the fashion house's founder Guccion, joined Gucci in 1933 and designed the logo for his father. The use of the two G's is in direct reference to the initials of Guccio Gucci himself – an artistic and memorable way to make the founder's significance represented in a visually timeless manner.
Designer Tom Ford came on board in the mid-nineties as creative director, and his initial collection focusing on jet-set glamour became a commercial success, redefining the label as a fashion mainstay. Since then Gucci has continued to design product in virtually every corner of fashion, from eyewear and fragrances to footwear and the 2009 reinvented Jackie bag. Now Gucci is one of the oldest Italian fashion brands in operation today.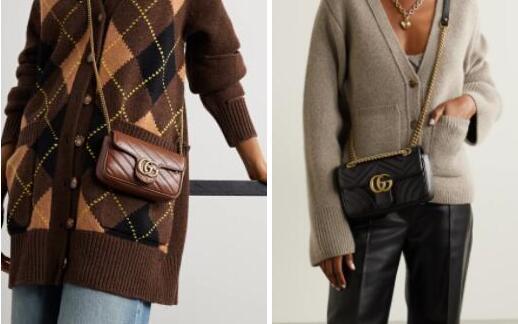 [[copyright:net-a-porter.com]]
Official Price: $990-$2850
Design

The GG Marmont design is inspired by a buckle Gucci used in the 1970s. Each bag features a bold GG logo motif as the main ornament with details like chevron quilting. The simple and linear structure, basically a rectangle, which makes this bag very capacious. Interior has a zipper and smartphone pockets with an open horizontal case. It allows us to store keys, mobile phone, sunglasses and even a few other small items. The chain strap has a leather shoulder detail. The GG Marmont celletion comes in a variety of styles including flap, top handle, tote, backpack and belt bags. The designs are both daring and compelling, perfect for young fashionistas.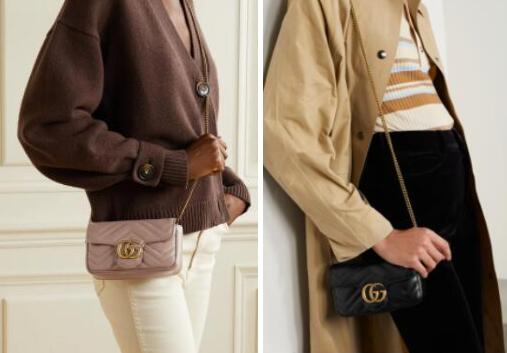 [[copyright:net-a-porter.com]]
Material
The Gucci Marmont bag is made in matelassé leather with a chevron design. Matelassé is a weaving or stitching technique yielding a pattern that appears quilted or padded. The matelassé leather is also understated and not overly puffy. It may be achieved by hand, on a jacquard loom, or using a quilting machine. It is meant to mimic the style of hand-stitched quilts made in Marseilles, France. But that's not all - you can also choose from supple calf leather, GG canvas, plush velvet, sequin, python leather and crocodile leather.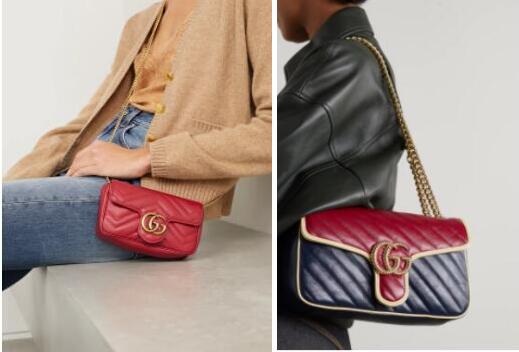 [[copyright:net-a-porter.com]]
Size & Colors
Each GG Marmont design melds functionality with femininity in a wide variety of colors and materials, all featuring brass chain shoulder straps whose coloring and size works well with each bag. There is one for every type of personality: timeless black, mystic white, hibiscus red, dusty pink, fresh yellow, peacock, dark emerald, white, brown, light blue, gold, etc. GG Marmont matelassé shoulder bag comes in four sizes.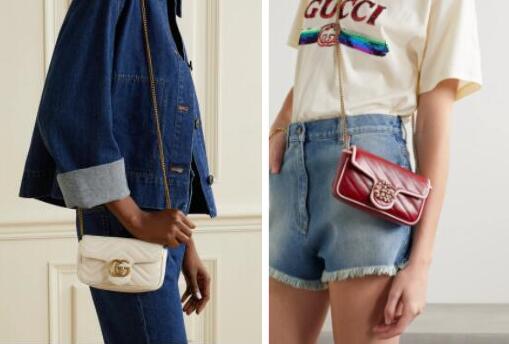 [[copyright:net-a-porter.com]]
GG Marmont matelassé leather flap bag sizes:
GG Marmont matelassé leather super mini bag
6.2"W x 4"H x 1.7"D

GG Marmont matelassé leather mini ba

g

8.5"W x 5"H x 2.5"D
GG Marmont small matelassé shoulder bag
10"W x 6"H x 3"D
GG Marmont medium matelassé shoulder bag
12"W x 7.5"H x 3"D
Where to Buy GG Marmont bag the Cheapest?
net-a-porter.com (5.5-6% cashback)
ssense.com (5-6% cashback)
farfetch.com (Up to 2% cashback)
Lady Dior vs. CHANEL Classic Flap vs. Gucci GG Marmont: which is the best investment for 2022 Comparing between these three bags is very subjective. It depends on your taste and style preferences.
Lady Dior Bag
Dior, a brand rooted in history and just as luxurious as it sounds. One that will forever be quintessentially classic designer bag is the Lady Dior Bag. Despite the Lady Dior usually being considered more dressy and formal, It can be as an everyday bag. There is a true elegance, sophistication and rich history behind it. It's one of top designer handbags every stylish and elegant woman should own!
CHANEL Classic Flap Bag
Chanel Classic Flap Bag has become a staple in handbag collections of next to every luxury fashion lover out there. It's the quintessential Chanel bag and it exudes class and luxury wherever you take it. The design is crafted to use in almost every occasions and it matches with almost anything in your wardrobe. It also looks incredible with evening and formal outfits. The Classic Flap Bag is so famous that Chanel increases the prices every year, sometimes with as much as 20%+. With its timeless and classic features, holding onto a flap bag could produce quite a profit in the future.
Gucci GG Marmont Bag
In my personal opinion, being a small or mini bag and all, the key of Gucci Marmont bag is really minimalism. It's the must-have bag - and possibly, a classic for years to come. Its arrival with this status is not without substantial history backing its minimalistic, yet modern design. And gucci is the cheapest of the three. It's a good piece of investment.
I'm sure you have found the one that you want after seeing these reviews! Sign up at Extrabux, then you can enjoy up to 10% cashback on your order!
Read More:
Michael Kors vs. Fossil vs. Emporio Armani Watches: Which is Best for Style?
Tory Burch vs. Coach vs. YSL vs. Furla: Which Brand Is The Best? (History, Quality, Price & Design)
Goyard St Louis vs. Louis Vuitton Neverfull vs. Longchamp Tote: Which Will Stand the Test of Time?
Bally vs. Salvatore Ferragamo vs. Tod's Shoes: Which Brand is the Best? (History, Quality, Design & Price)
Coach vs Tory Burch vs MCM Bag: Which Brand Is The Best? (History, Quality, Price & Design)
Louis Vuitton Neverfull vs. Graceful vs. Artsy Review: Which of the Three Should Be Your First LV Bag?
CHANEL vs. Louis Vuitton vs. Gucci Bags: Which Brand Is The Best? (History, Design, Quality & Price)
Lancome Teint Idole vs. Estee Lauder Double Wear vs. YSL All Hours: Which Foundation is Best for You?
Goyard Saint Louis vs. Artois vs. Anjou Tote: Which is the Best Tote to Invest in 2022 (Sizes + Price)
Review: Ray Ban vs. Maui Jim vs. Oakley vs. Costa Del Mar: Which Makes the Best High-End Sunglasses Brand?
Gucci GG Marmont Mini vs. YSL Lou Mini vs. CHANEL Classic Camera: Which is the Best Designer Camera Bag to Buy
Gucci vs. Louis Vuitton vs. YSL Wallet: Which is the Best to Invest in 2022?
Rimowa vs. Monos vs. Briggs & Riley vs. Zero Halliburton: Which Brand is the Best Carry-On Luggage 2022?
Compare: Giorgio Armani vs. Dior vs. Charlotte Tilbury vs. Estee Lauder Double Wear Foundation, Which is Best?
Parfum vs. eau de Parfum vs. Eau De Toilette vs. Cologne: What is the Difference, and How to Choose?
Coach vs. Kate Spade vs. Michael Kors Bag: Which brand is better? (History, Quality, Price & Design)