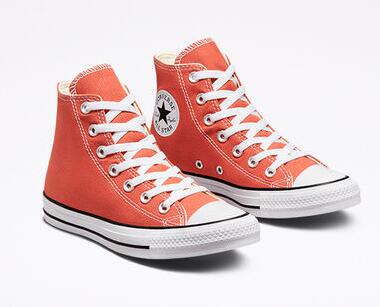 Converse Chuck Taylor All Star Fake vs Real Guide 2022: How to Sport a Fake?
Since their introduction in 1923, Converse's Chuck Taylor All Star sneakers have evolved into a global symbol of originality and individuality. They were first dedicated to playing basketball, but they are now common shoes in casual and street fashion. Chucks have become shorthand for a distinctly American brand of unstudied cool. There are a lot of fake converse shoes that have flooded the market. It is usually difficult to spot the difference between the fakes and the originals. In this case the devil truly is in the details. In this fake vs real guide, I will explain you how to tell if Converse are fake!

[[copyrightcover:converse.com]]
1. The Overlook & Material of Converse Shoes

1) Chuck Taylor All Star is a pretty simple shoe.The label just says everything is textile, but they're made from cotton canvas, which is a durable, plain-woven fabric that's used in sails, backpacks, tents, and sneakers.
2) The canvas is breathable and lightweight, and while it doesn't have a lot of shape to it - this is a very floppy, unstructured, low volume kind of shoe - it makes for terrific summer wear. Another pro of the canvas is that it's easy to draw or paint on, which countless customers have done over the years to make for more personalized sneakers.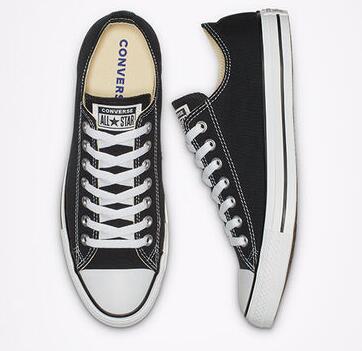 [[copyright:converse.com]]
2. The Logo Patch of Converse Shoes
1) The logo patch is a white, round screen-printed rubber patch that has the label "CONVERSE ALL STAR" in red uppercase letters and "Chuck Taylor" signature in navy blue script with a five-pointed star in between. Note that this red, white and blue badge is not used on monochromatic versions of Chucks. Instead, monochrome pairs feature the logo in 3D and in the same color as the canvas upper.
2) High-top Chucks have the round logo patch on the inner ankle of the shoe. If you find a shoe that has the logo on the outside, it is clearly a fake. It was placed on the inside as it was initially designed to protect the athlete's ankle.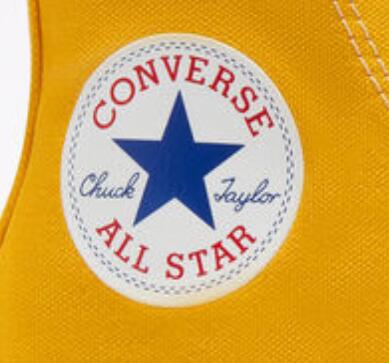 3) On low-top All Star shoes, the Converse All Star logo patch is placed on the tongue. It is a thin, rectangular canvas fabric that is neatly sewn onto the tongue that says "CONVERSE" in white against a red background and "ALL STAR" in navy blue with the star logo separating the two words. This particular color combination of the badge is only used on the white and natural ivory color versions of the low-top All Star. The two-tone versions of the All Star shoes feature the rectangular logo patch in black and white, while the monochromatic pairs have the logo in the same color as the shoes.
4) Besides, the logo patch of authentic Converse shoes is usually bold, and doesn't fade off, with the exact same words. The logo is usually bright and beautifully done. It mostly has a navy blue star, but not always, and sometimes the patch is made of rubber.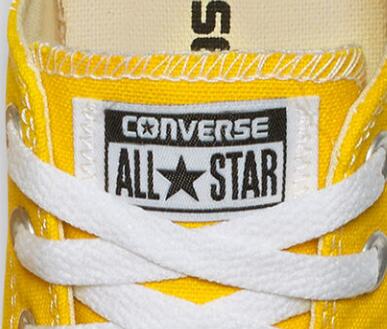 3. The Logo on Heel
1)Every Converse Chuck Taylor sneaker has a rubber patch on the heel. This rectangular patch features the same branding as the fabric logo patch on the low-top All Stars. The back logos of genuine Converse are firmly and neatly glued on. It says ALL STAR (made before 2008) or Converse All Star (new model). Shoes made before 2008 will have the ® symbol under the All Star logo. If you see this symbol on shoes made after 2008, be cautious.
2)Fakes have crooked, thick logos, they are usually not on the same height. You can usually tell whether shoes are fake if they have poorly made logos. There should also be no excess glue showing along the edges of the rubber patch. Otherwise, they're likely counterfeit.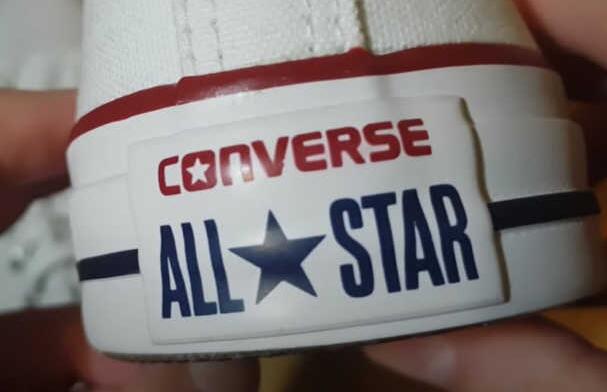 Money Saving Tip: If you like online shopping, don't forget to sign up at Extrabux!(What is Extrabux) , then you can enjoy up to 30+% cashback on your purchase from Extrabux! Sign-Up Bonus: Free to join it & get $20 welcome bonus! Student Benefits:As long as you are a student at school, you can get a free whole year long VIP Card worth $199.
You can save on buying daily necessities, fashion, beauty, electronic products, broadband installation, mobile communication, air tickets, hotels and other aspects of life! Extrabux.com cooperates with many merchants, such as: Walmart (Up to 4% cashback), Sephora(4% -5% cash back),Dior (Up to 6% cash back), Moosejaw (5% -6% cash back), LOOKFANTASTIC (Up to 10% cash back), Microsoft (Up to 7% cash back) and so on.
4. The Toe Caps and Toe Guards
1) Converse shoes' distinctive white toe caps must be made of solid rubber material. It should also be positioned straight and parallel to the bottom laces. Fake Chucks usually have bigger toe capsize than genuine All Star shoes.
2) The rubber toe guards must be in solid form. It should have diagonal lines at the top, a crisscrossed diamond pattern at the middle, and a smaller diamond pattern at the bottom. This should be neatly trimmed and bonded to the shoe, with no excess glue anywhere.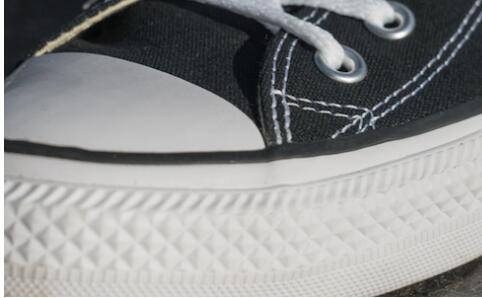 5. The Eyelets
If the eyelets, including the medial eyelets, are polished, they are definitely a knockoff. Authentic Converse All Stars have matte eyelets. They are also neatly aligned on the upper and they don't come off easily.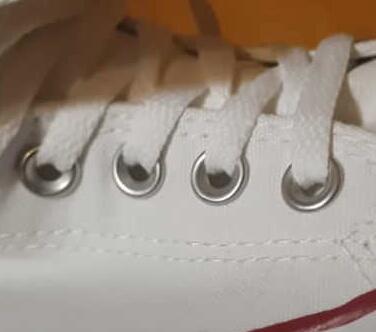 6. The Tongue of Converse
1) Whether low-or high-top, the tongue of some Converse styles should have a small patch on the top. It contains information about where the shoe was manufactured, the model number, shoe size, the material of the shoe, QR code, and unique serial numbers for each shoe. This serial number should also be on the box they came in as well. There are also some styles with a star logo on the tongue.
2) Authentic Converse All Star size in the last column is ALWAYS given in centimeters. If it says mm, you can instantly tell they are fake. Also counterfeit Converse don't have half sizes.
3) The traditional tongue is made of a thin canvas. Notice the zigzagged stitching around the border of the tongue. If it's loosely done or crooked, chances are, they're fake.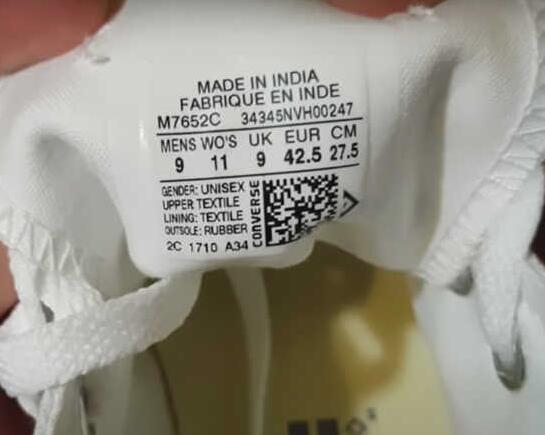 7. CONVERSE Print on the Insole
1) The 'CONVERSE' logo is usually printed boldly and plainly on the inner sole. There should also be a tiny 5-pointed asterisk on the insole of some styles, not too far from the Converse logo.
2) The print is usually sharp and clearly visible. If you notice that the imprint looks faded, or is uneven, or appears to have paint leaks around it, that's a red flag.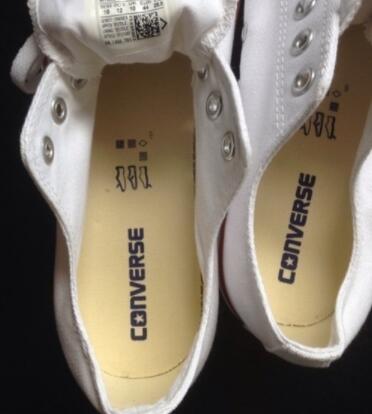 8. The Sole of Converse
1) Converse All Star shoes boast a unique waffle-patterned sole. It looks like a combination of various patterns, including diamond shapes, diagonal lines, crisscrossed lines, and horizontal lines.
2) Original Converse All Star shoes also have a tiny part on the outsole that shows the Converse logo. You should see the "CONVERSE ALL STAR" lettering and five-pointed star insignia.
3) The sole of real Converse is relatively soft and flexible. It can be covered with a fuzzy fabric for better friction. The soles of fake Converse are hard and uncomfortably heavy.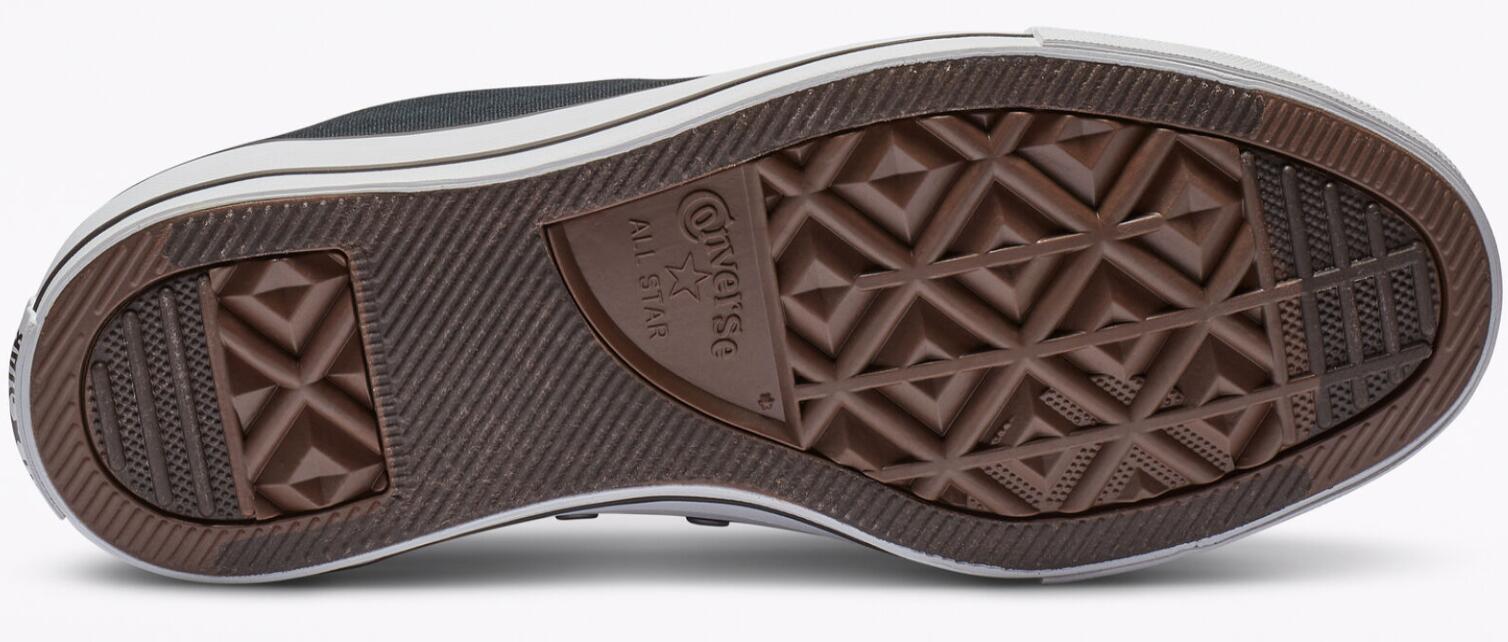 9. The Stitching
Authentic Converse shoes all have sturdy stitches on the upper. The stitching usually comes in white, except for the monochrome and ivory color versions that have tonal stitching. The paint on the rubber piping should also be straight and solid. The fake ones are frail, stitches are randomly done, crooked and not arranged well.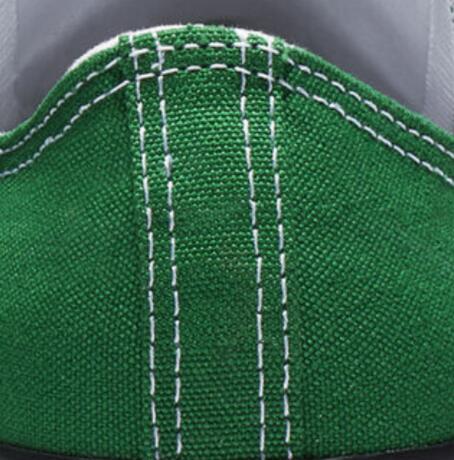 10.The Presence of Tags
Original converse shoes will always come with tags. These tags are your sign for their authenticity. Before spending your cash, make sure they have the signature converse tags.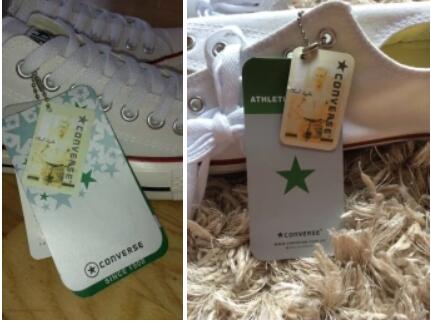 11. The Packaging
1) All fresh, original Converse All Star shoes come in a properly labeled Converse box. The package also has tissue wrapping, and, at times, stuffing paper inside the shoes.
2) It's a black box with brown stripes around the bottom. Prints of the company's wordmark logo should be seen on the top, front, and right side of the lid. The side of the box should also display information about the shoes, including size, style, color, as well as a barcode and a QR (Quick Response) code. There should also be a print of the All Star shoe sole on the bottom part of the box.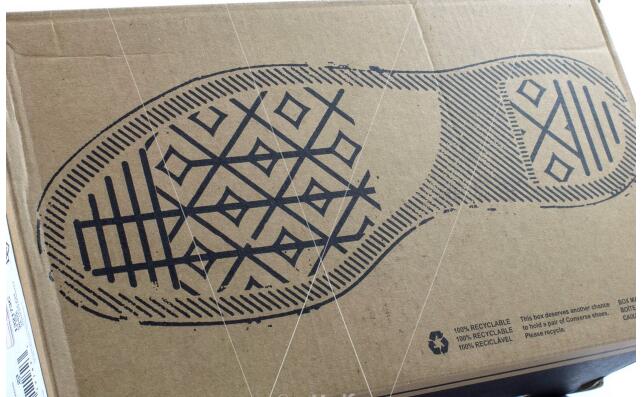 12. Compare the Price
Standard All Star high tops will typically sell anywhere from $55 to $140 depending on the style. Converse stores and authorized retailers usually offer the best marked-down prices and clearance sales, which can usually go up to 75% off the original price tag. If the price is ridiculously low, it is best to check more carefully or walk away.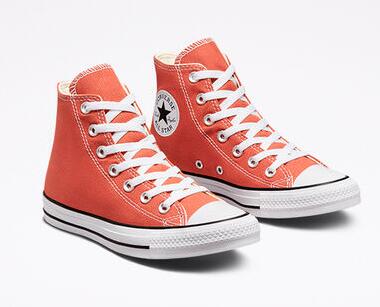 [[copyright:converse.com]]
Where To Buy Converse Canvas Shoes The Cheapest?
Converse shoes are available in Converse boutiques worldwide and online. Sign up at Extrabux.com, you can get up to 9.6% cash back on the Converse purchase at these websites!
converse.com (2.5-3% cashback)
journeys.com (4% - 6% cashback)
shopbop.com (Up to 9.6% cashback)
Read more:
Balenciaga Speed Trainer Sneakers Fake vs Real Guide 2022: How to Spot a Fake?
Bape Sta Sneaker Real vs Fake Guide 2022: How can You Tell if Bape Shoes are Fake?
2022 Alexander McQueen Oversized Sneakers Fake vs Real Guide: How Can You Tell a Fake?
Hermès Belt Original vs. Fake Guide 2022: How to Know if Hermès Belt is Fake?
Louis Vuitton Belt Fake vs Real Guide 2022: How Can You Tell if a LV Belt is Real?
CELINE Luggage Bag Real vs Fake Guide 2022: How to Spot a Fake CELINE Luggage Bag?
Gucci GG Marmont Bag Authentic vs Fake Guide: How to Tell a Real from a Fake? (Sizes+Sale+7% Cashback)
CELINE Classic Box Real vs Fake Guide 2022: How to Spot a Fake Bag?
CELINE Belt Bag Fake vs Real Guide 2022: How to Spot a Fake Celine Belt Bag?
Tory Burch Ballet Flat Shoes Fake vs Authentic Guide: How to Spot Fake Flats?
YSL Niki Bag Real vs Fake Guide 2022: How To Authenticate A Fake (Sale+8% Cashback)
Hermes Birkin Bag Fake vs. Real Guide: How to Authenticate A Birkin? (Sizes + Sale + 7% Cashback)
Louis Vuitton Alma BB Monogram Authentic vs Fake Guide 2022: How To Spot Fake from Real? (Sizes+7% Cashback)
Hermès Constance Real vs Fake: How To Spot A Fake Constance Bag? ( Sizes + Sale + 7% Cashback)
Hermes Kelly Bag Real vs Fake Guide: How To Authenticate A Fake bag? (Sizes+7% Cashback)
Where To Buy Dior Bag The Cheapest in 2022? (Cheapest Country, Price, VAT Rate & Tax Refund)