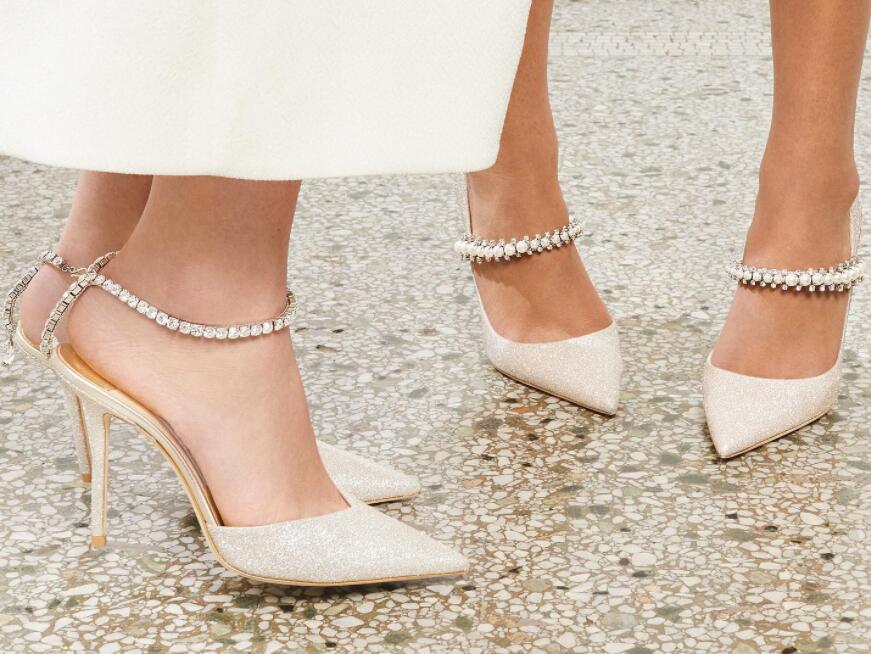 Jimmy Choo Shoes Fake vs Real Guide 2022: How can You Tell if Jimmy Choo Shoes are Real?
Jimmy Choo, a British high fashion house founded in 1996 and known for its handmade women's shoes. It's one of the biggest names in the world of luxury footwear, breaking boundaries and redefining our idea of understated but glamorous stilettos. However, counterfeit Jimmy Choo shoes are on the rise. When we buy Jimmy Choo shoes on line, How do you tell if my Jimmy Choo shoes are real? With a few tips and tricks from this guides below, you'll know how to authenticate fake or real Jimmy Choo shoes in no time!

[[copyrightcover:Jimmy Choo ins]]
1. The Signature Styles of Jimmy Choo
If you invest in just one pair of Jimmy Choo, make it the Love. This pointy pump may be a new edition to the JC family, but it's been a whirlwind romance and the style has quickly become a best-seller. The combination of a dramatic pointy toe, high-cut design and skinny stiletto heel offers leg-lengthening superpowers and instantly sculpted calves.

[[copyright:FARFETCH]]
Jimmy Choo heels are known for bringing all the glitz and glamour and these super-sparkly Romy stilettos are giving us strong fairytale vibes. Part of the brand's 24:7 collection, the Romy is a red-carpet mainstay, a wedding shoe favourite and all-round party classic.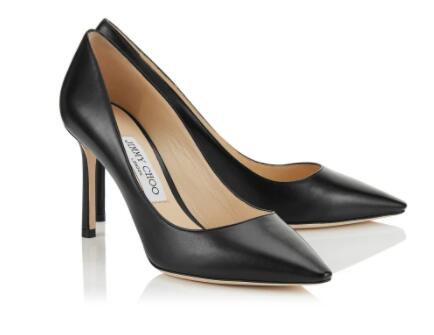 [[copyright:jimmychoo.com]]
Special occasions call for Jimmy Choo's sparkliest shoes. The label is renowned for its glamourous heels decked out with crystal embellishment, glitter, OTT feathers and much more. Jazz up any party look with the crystal-strap Bing mules.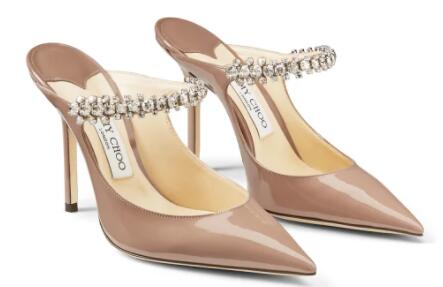 [[copyright:jimmychoo.com]]
2. The Materials of Jimmy Choo Shoes
JIMMY CHOO uses the highest quality of natural leathers and exotic leathers, such as leather from Italy. Their products are the result of extensive research, resulting in the fine details synonymous with high quality luxury. Some Jimmy Choo shoes are made of black suede and leather and also covered in metal studs. This is why they are so expensive. You can feel quality leather. Jimmy Choo leather does not crinkle or wrinkle.

3. The Logo on the Insole
1) Every pair of authentic Jimmy Choo shoes have a white fabric insole label with JIMMY CHOO followed by LONDON printed on it. Each side of the label is sewn symmetrically into the shoe.
2) The "JIMMY CHOO"logo should be evenly spaced on the insole label in large letters and each "O" in "CHOO" should be round and stand up. Also, the word "London" should be printed in a small font underneath it and centered between the second "M" from Jimmy and "H" in Choo. Additionally, the "C" has a fine hook at the upper end and the middle bar in the "H" is not exactly in the middle, but a little further up.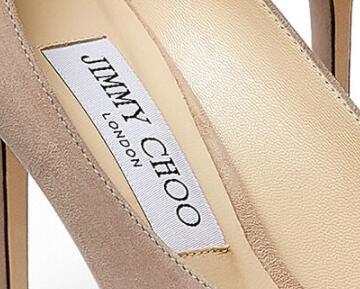 Money Saving Tip: If you like online shopping, don't forget to sign up at Extrabux!(What is Extrabux) , then you can enjoy up to 30+% cashback on your purchase from Extrabux! Sign-Up Bonus: Free to join it & get $20 welcome bonus! Student Benefits:As long as you are a student at school, you can get a free whole year long VIP Card worth $199.
You can save on buying daily necessities, fashion, beauty, electronic products, broadband installation, mobile communication, air tickets, hotels and other aspects of life! Extrabux.com cooperates with many merchants, such as: Walmart (Up to 4% cashback), Sephora(4% -5% cash back),Dior (Up to 6% cash back), Moosejaw (5% -6% cash back), LOOKFANTASTIC (Up to 10% cash back), Microsoft (Up to 7% cash back) and so on.
4. The Logo on the Sole
1) The Jimmy Choo soles feature the "JIMMY CHOO" logo in upper-case letters with the "LONDON" logo in a smaller font beneath it. Make sure that logo is the same as on the insole. Beneath that, you should find a label stating"MADE IN ITALY"and the European shoe size.
2) Some shoes also have the words "Vero Cuoio" written, which means "Real Leather" in Italian. Check that the correct font is used, and that they are even spaced, level and feature a clean letter edge.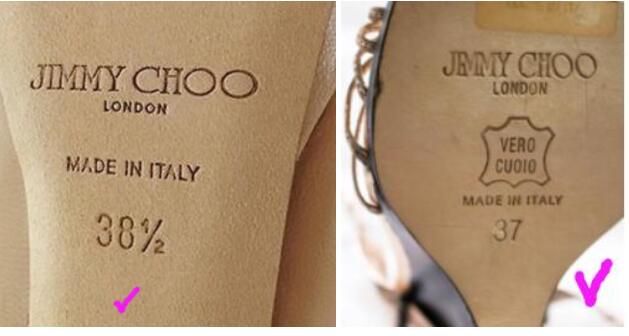 5. The Stitching of Jimmy Choo shoes
Authentic Jimmy Choo shoes should have perfect and consistent stitching. The authentic stitching is evenly spaced, accurate, tight, straight and with a tidy finish. The thread used is thin, but it looks sturdy. Many fake pairs have double stitching or wide and uneven stitches.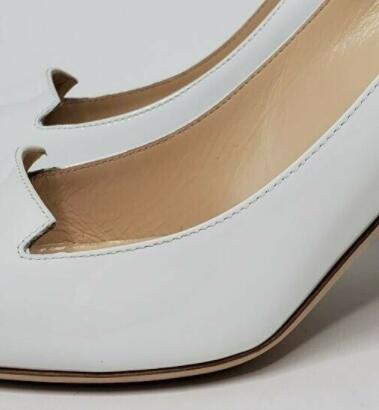 6. The Zipper
If you are looking at a Jimmy Choo style with a zipper, this should be the first thing you inspect, as it is the biggest giveaway. The real Jimmy Choo zipper is gold, rectangular shaped, and has "Jimmy Choo" engraved in it. Some fake shoes has a regular black plastic zipper with the letters "YKK" engraved.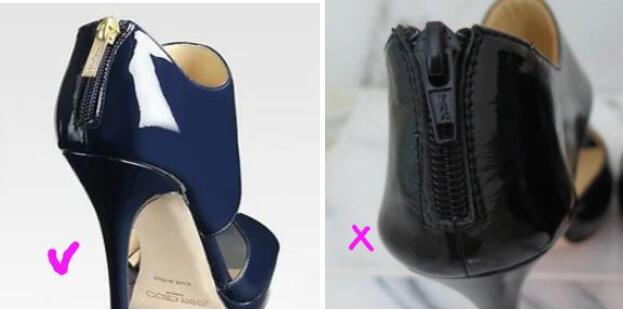 7. Jimmy Choo Shoe Box
1) Authentic Jimmy Choo shoes are usually handed out in a solid, slightly purple cardboard box, on the lid of which the jimmy CHOO and LONDON lettering simmortalized. The logo is written in a silver iridescent colour.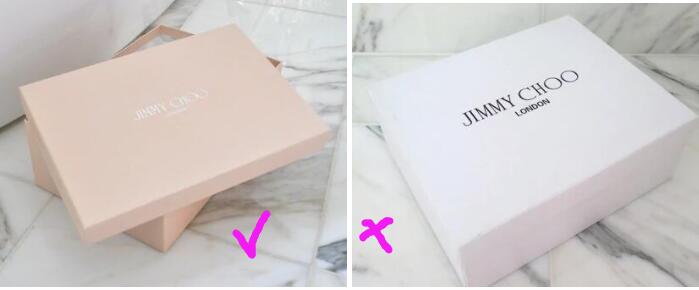 2) There is also a white label on the shorter side with various information of style number, color and size information of the shoe. It is best to compare this information with the actual characteristics of the shoe wen judging if these are genuine or fake Jimmy Choo.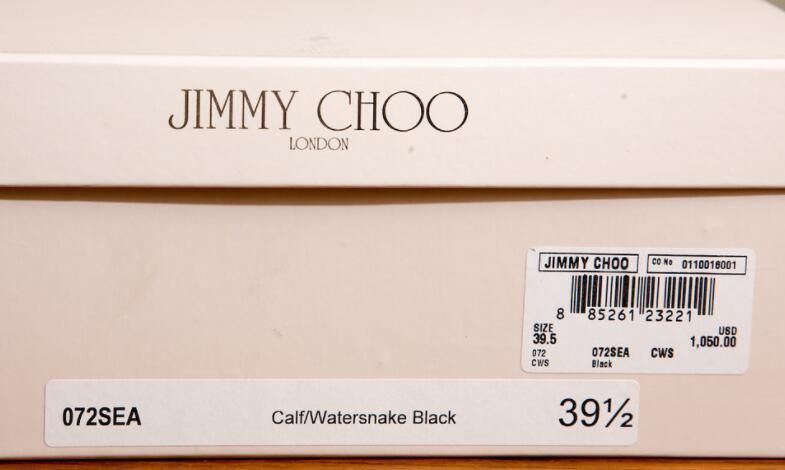 8. The Dust Bag
1) The Jimmy Choo dust bag features the "JIMMY CHOO" logo with the "LONDON" logo in a smaller front beneath it. It is also extremely soft and a light lilac colour similar to the box.You can often recognize fake dust bags by the fact that they fray and the fabric looks inferior in quality.
2) Check the font, positioning and alignment of the words carefully and be aware that even real dust covers can accompany fake shoes.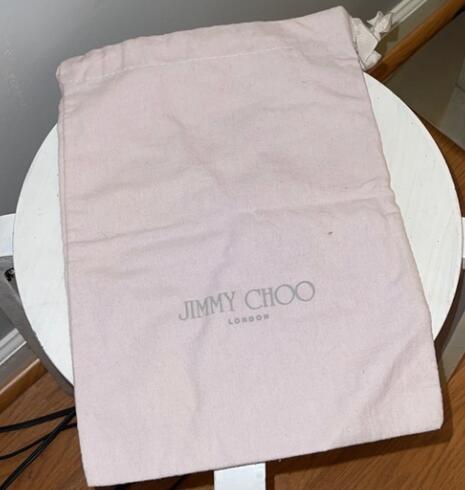 Where To Buy Jimmy Choo Shoes The Cheapest?
Jimmy Choo Shoes are available in Jimmy Choo boutiques worldwide and online. And you can also get a second-hand Jimmy Choo shoes on some resale websites! Sign up at Extrabux.com, you can get up to 10% cash back on your purchase at these websites!
us.jimmychoo.com (3 - 4% cashback)
luisaviaroma.com (8 - 10% cashback)
giglio.com (5.5 - 7% cashback)
second-hand Jimmy Choo Shoes
vestiairecollective.com (7.5 - 9% cashback)
Read more:

Balenciaga Speed Trainer Sneakers Fake vs Real Guide 2022: How to Spot a Fake?
Bape Sta Sneaker Real vs Fake Guide 2022: How can You Tell if Bape Shoes are Fake?
Christian Louboutin Shoes Fake vs Real Guide 2022: How to Spot Fake Red Bottom Heels?
Converse Chuck Taylor All Star Fake vs Real Guide 2022: how to Sport a Fake?
2022 Alexander McQueen Oversized Sneakers Fake vs Real Guide: How Can You Tell a Fake?
Hermès Belt Original vs. Fake Guide 2022: How to Know if Hermès Belt is Fake?
Louis Vuitton Belt Fake vs Real Guide 2022: How Can You Tell if a LV Belt is Real?
CELINE Luggage Bag Real vs Fake Guide 2022: How to Spot a Fake CELINE Luggage Bag?
Gucci GG Marmont Bag Authentic vs Fake Guide: How to Tell a Real from a Fake? (Sizes+Sale+7% Cashback)
CELINE Classic Box Real vs Fake Guide 2022: How to Spot a Fake Bag?
CELINE Belt Bag Fake vs Real Guide 2022: How to Spot a Fake Celine Belt Bag?
Tory Burch Ballet Flat Shoes Fake vs Authentic Guide: How to Spot Fake Flats?
YSL Niki Bag Real vs Fake Guide 2022: How To Authenticate A Fake (Sale+8% Cashback)
Hermes Birkin Bag Fake vs. Real Guide: How to Authenticate A Birkin? (Sizes + Sale + 7% Cashback)
Louis Vuitton Alma BB Monogram Authentic vs Fake Guide 2022: How To Spot Fake from Real? (Sizes+7% Cashback)
Hermès Constance Real vs Fake: How To Spot A Fake Constance Bag? ( Sizes + Sale + 7% Cashback)
Hermes Kelly Bag Real vs Fake Guide: How To Authenticate A Fake bag? (Sizes+7% Cashback)