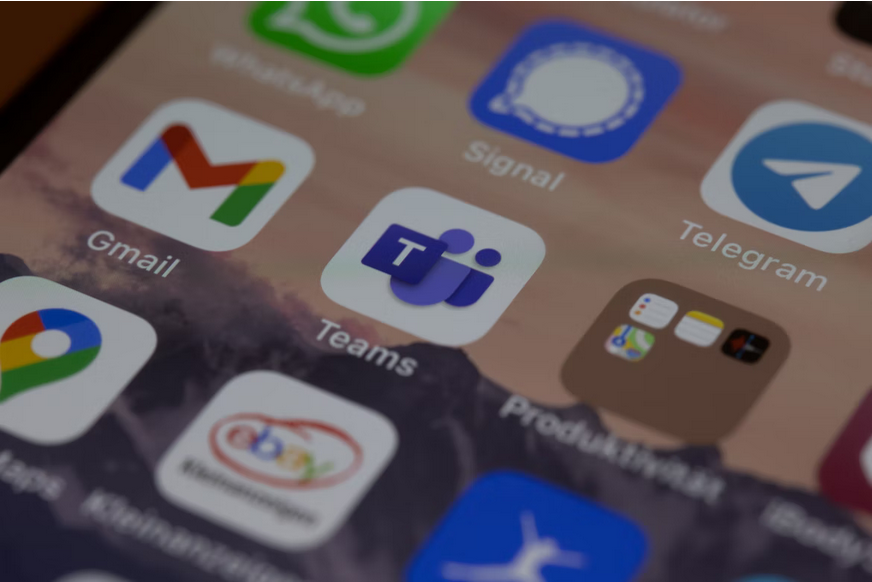 WhatsApp vs. Telegram vs. Signal: In-depth Comparison & Verdict 2022
Communication has big changed and becomes easier in a decade than before due to ever-evolving technology. From text to emojis that make conversations more fun, instant communication apps have become essential companions in our daily lives. There are dozens of messaging apps out there, WhatsApp, Signal, and Telegram are amongst the most popular ones. But as WhatsApp announced its new Terms of Services (demanded to take more data from the users), millions of users have left WhatsApp and fled to Signal and Telegram. So is WhatsApp really worse than Signal and Telegram? Which one is the best instant communication app for you? In this post, I will analyze the advantages and downsides of these three apps and shed some light on how they are different to help you choose the best one for your needs.
[[copyrightcover: Dimitri Karastelev on unsplash.com]]
WhatsApp, Telegram and Signal Review
WhatsApp
Website | iOS App | Google Play App

WhatsApp is by far one of the best messaging apps. It has had a head start over most of its competition due to its massive user base. As well as the standard text-based conversations, it's able to handle video calls, group chats, location sharing, and the transferring of files of various types. You can ping a lot of people at once with the Broadcast feature, leave voice memos, and more besides. The app doesn't rely on a cellular network or SMS exchange and provides free service as long as you have a stable internet connection.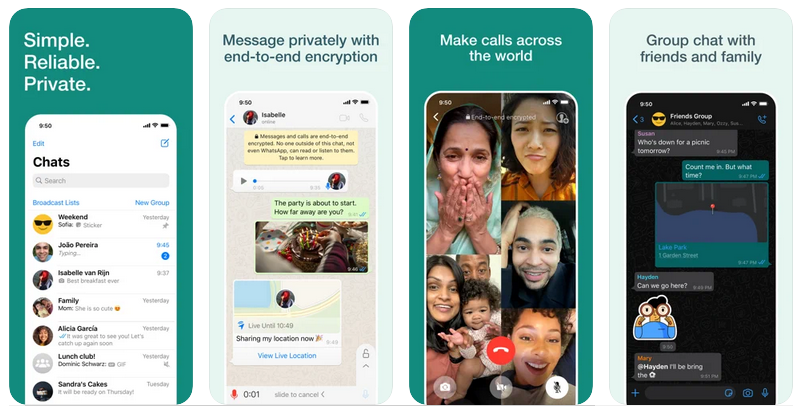 [[copyright:apps.apple.com]]
WhatsApp belongs to the Facebook corporation, which acquired it in 2014. New WhatsApp privacy terms share user data with Facebook. So if you use WhatsApp, you shouldn't expect privacy. While WhatsApp end-to-end encryption hides your messaging content, Facebook can still collect almost all the necessary data it needs about you in order to use in advertising and marketing, like your Phone number, location, contacts, habits, browsing history, purchase history, advertising data, user and device ID, email address, payment information, performance data, etc.
| | |
| --- | --- |
| PROS | CONS |
| Being the most popular app, you will find most of your contacts here, which is very convenient | Owned by Facebook, which is plagued by ongoing privacy concerns (although Facebook claims that it doesn't monitor WhatsApp) |
| Fingerprint lock when you open the app | |
| Free messages, audio calls, and video calls | |
| Multimedia and document sharing | |
| Voice messages | |
| Can share documents up to 100MB/file | |
| Easy group chatting with 250+ people | |
| End-to-end encryption (only you and the users in a chat can read the messages) | |
Telegram
Website | iOS App | Google Play App

Telegram is also a cross-platform, cloud-based, instant messaging software that lets you exchange dialogue with your loved ones or acquaintances. It was initially introduced for iOS users in August 2014 and the Android version was launched in October of the same year. From 100 million active users in 2016, Telegram now has about 500 million active users in 2021. Telegram impresses in most areas, with features like chat backups and disappearing messages (messages with expiry times attached). You can load up group chats, make video calls, and more, and in use, it's just as responsive and intuitive as the other messaging apps out there.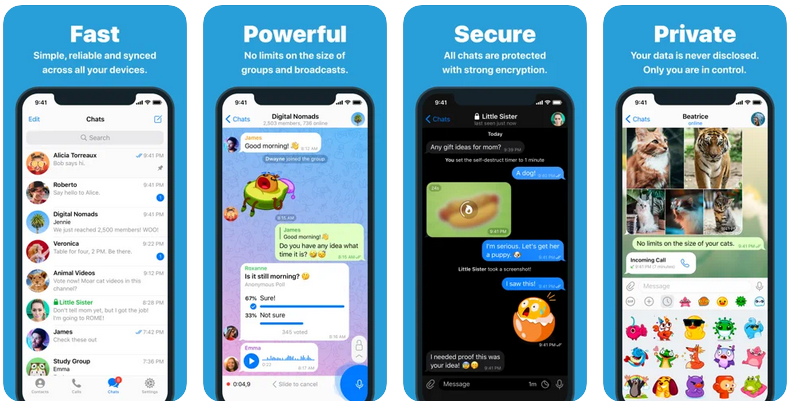 [[copyright:apps.apple.com]]
A great thing about Telegram is that it lets you share files of any size because it stores the content on the cloud. You literally have no limit to what you can send via Telegram. In addition, it also allows you to add up to 200,000 people to a group. But one caveat about Telegram is that end-to-end encryption isn't enabled by default, so you need to make sure the Secret mode is activated before you can be sure that no one else is going to tap into your communications. Another point worth considering is that Telegram logs your IP addresses and collects other user data, and its encryption has not been formally audited by independent security researchers yet.
| | |
| --- | --- |
| PROS | CONS |
| Offers all the key Instant messages features | Encryption isn't set by default (you have to make sure you turn on Secret mode) |
| Photo and video editing tools and fun GIF stickers | Doesn't thoroughly encrypt all metadata |
| Group chats of up to 200,000 members | |
| Secret chats protected by passcodes | |
| No size limits on files or media you share | |
| Can set messages to self destruct | |
| Customizable messenger | |
Signal
Website | iOS App | Google Play App

Signal is a social media application that is similar to WhatsApp. It not only lets users exchange chat messages, voice recordings, audio files, video files, documents, GIFs, Emoticons, statuses, and links with their contacts but also allows users to create Groups that can accommodate up to 1000 members. Signal has been the golden standard for encrypted messaging for a long time now which uses automatic end-to-end encryption, is open source, and has undergone numerous (and successful) independent audits of its cryptography over the years.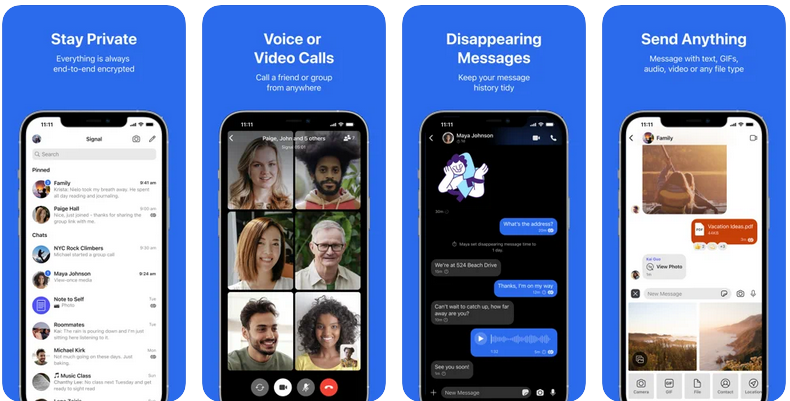 [[copyright:apps.apple.com]]
It also allows you to verify the identity of your contacts. Each conversation has a unique safety number (often referred to as a fingerprint or key) that allows you to confirm the security of your messages and calls with specific contacts. The app also includes several other useful features on top of the tight security, such as video calling, and disappearing messages that vanish after a certain time period (perfect for those conversations you don't want to stay on the record). Unfortunately, Signal misses out on some of the features which are available on other apps, like UPI payments, starred messages, live location sharing, and more.
| | |
| --- | --- |
| PROS | CONS |
| Extremely familiar, intuitive interface | Few fun features |
| Free messages, video calls, and audio calls | Can't send files that are larger than 100 MB |
| Open source, industry-leading encryption | Because the app is not so popular worldwide yet, it's going to be hard to find all your contacts there |
| Meta information is secure | |
| Can verify sender's fingerprints | |
| Can add a separate lock screen on the app for added security | |
| Ability to set messages to self destruct (like Snapchat) | |
If you like online shopping, Sign up at Extrabux first,then you can earn up to 30% cash back on every purchase at more than 10000+ stores! (What is Extrabux), Sign-Up Bonus: Free to join it & get a $20 welcome bonus!

WhatsApp vs. Telegram vs. Signal: In-depth Comparison

Security and Privacy
Before anything, I would like to begin with security and Privacy first as it's the most debatable and contentious topic among the three messaging services.

WhatsApp
In terms of security, WhatsApp is quite good as provides end-to-end encryption for every mode of communication that you use on WhatsApp, which makes your audio calls, video calls, and text messages end-to-end encrypted. What that means, is that you and the recipient are the only people who can read the messages you send to them. WhatsApp can't decrypt the contents of your messages, calls, photos, etc, thus ensuring your security and privacy.

But It's noteworthy that even though all your communication on WhatsApp uses E2E encryption, the company does not encrypt backups (cloud and local). Also, it does not encrypt the metadata which is used to carry communication between two endpoints. This is one of the major criticisms of WhatsApp's security model.

WhatsApp will collect your metadata – IP address, your name, and mobile phone number, location history, your contacts, and their phone numbers, even your device type. And its new Privacy Policy means that your metadata will be shared with Facebook, and there is no way to prevent this. So in terms of privacy, WhatsApp is bad.
Telegram
In terms of security, Telegram isn't one of the best apps. Alough it offers industry-standard end-to-end encryption to all users. However, there is a catch. The end-to-end encryption feature isn't enabled by default and you can only use end-to-end encryption with secret chats.
All messages sent through secret chats are encrypted via the MTProto encryption protocol, but any normal messages sent outside this mode are not. So, any messages you send are encrypted on your device but decrypted on Telegram's server. Then, the messages are encrypted again and sent to the recipient for the final decryption. You can use the Secret Chats feature on all the app's desktop clients apart from macOS.
In terms of privacy Telegram is a bit better compared to WhatsApp, as it collects only the contact info and contacts from you. But that is still not good if it doesn't have good security.
Signal
Signal is the most secure instant messaging app of all. It uses its encrypting protocol- Signal protocol for end-to-end encryption, used for all messages and calls, without exception. Every individual chat has a unique safety number that enables you to check the security of your messages and calls with particular contacts. While WhatsApp encrypts messages and calls (and that's enough for most users), Signal goes one step further and encrypts the metadata too.

You can also find the standard security options such as 2-Factor Authentication, blocked screenshots, biometric security, and all files being encrypted via a 4-digit passphrase. Furthermore, you can also encrypt backups for all your local files in addition to making encrypted group calls.

In addition, Signal also took a step further when it comes to your privacy, introducing a feature called Sealed Sender. With this feature, even Signal doesn't know the sender and receiver's identity or any other correlated information.

Conclusion: both WhatsApp and Signal provide end-to-end encryption for chats on their platform. But the data that gets backed up in the cloud or drive of WhatsApp is not encrypted. However, Signal even encrypted backed up data, conversations and goes as far as to encrypt the metadata. Telegram doesn't have the feature of end-to-end encryption unless you enter a secret chat room with your group members. So for Security and Privacy, Signal is the clear winner.
Date Usage
WhatsApp
WhatsApp acquires your Location, IP address, Contacts, Status updates, ISP details, Mobile phone model, purchase history, Crash data, performance, and interaction data along with your profile picture and phone number.
Telegram
Telegram only asks for the phone number that you've used to register, your email ID, and contact info along with the data about your contacts.
Signal
The only information you introduce in the Signal app is your phone number. Moreover, the developers are currently working on eliminating this requirement as well in the near future.
Conclusion: as you can see the Signal app collects the least amount of user data among WhatsApp vs Telegram vs Signal, your identity is more secure while using the Signal app.
Features
WhatsApp
When talking about features, WhatsApp is one of the most complete apps out there. It has all the core features of a messaging app like chats, group chats, broadcast lists, sending photos, videos, documents(maximum limit for multimedia is 16MB and for documents is up to 100MB), and sharing contacts & live location. WhatsApp offers group chats with up to 256 members, where you can mute or customize notifications, have a voice and video calls with up to 8 individuals, etc.

It also gives additional cool features like the 24-hour status update which is like Stories on Instagram which is very fun and people enjoy posting on it a lot, UPI integration within the app for payments and transactions. And since WhatsApp is meant for general users, it offers seamless backup and restores functionality through cloud services like Google Drive and iCloud. And the best part is that cloud backup is completely free. Not to mention, WhatsApp now also supports dark mode.

Telegram
Like WhatsApp, Telegram offers free text and voice messages, voice and video calls, media sharing, and sharing of location details, files, and documents. However, unlike WhatsApp's 256 member limit, Telegram brings support for groups with up to 200,000 members! In addition, you can also share files up to 2GB over Telegram, which is massive compared to the 100MB cap on WhatsApp. Telegram also offers multiple group-specific features such as bots, polls, quizzes, hashtags, and a lot more which can make group experiences a lot more fun.
It is worthing mention that Telegram provides the ability to edit your messages after you've sent them, something that WhatsApp and Signal don't offer, and it is a considerable advantage, especially if you are cautious about "grammar nazis". Moreover, the app also provides unique features such as a self-destructing messages feature which is great if you're sending messages that you don't want to remain on the recipient's device for eternity.

Signal
Like its competitors, Signal messenger app has all of the essential features covered that let you send messages, make audio, video calls and you can also make groups. But you can only send images up to 6MB and files up to 100MB, which is a rather small capacity. You also get group calling and a 'Note to Self' feature where you can type in your thoughts and everything. However, you do not get the broadcast list feature. Group chats on Signal can have up to 1000 members, while voice and video calls are currently limited to eight participants.

Its incognito keyboard is impressive. Thanks to the photo editor, it can blur faces and private info from any media with one stroke. It can also relay voice calls through servers to hide your actual locations, similar to what a VPN does. Signal also has the standard emoji and sticker options within the chat but not anything as flamboyant as Telegram's chat options.
Conclusion: when it comes to features, Signal offers the shortest list of integrated features which can not boast such a decisive advantage over WhatsApp and Telegram.
WhatsApp vs. Telegram vs. Signal: Verdict

Without a doubt, the three leading chat apps - WhatsApp, Telegram, and Signal - are great in their own way. So Which app is the best? the answer is not that simple. It greatly depends on what you value the most and your needs for social messaging applications.
If you need the most convenient app to find contacts and quickly start conversations, WhatsApp is more suitable for you, because there's a high chance that you will find them on WhatsApp.
If you want to leave WhatsApp due to Privacy problems, and your biggest concern is the number of users, Telegram currently is your best choice. You can still benefit from good security and privacy.
Signal is your best option if you're looking for super-secure messaging, voice, video, group messaging, and file sharing. Although the users of Signal are the least of the three at this time, it's growing quickly.