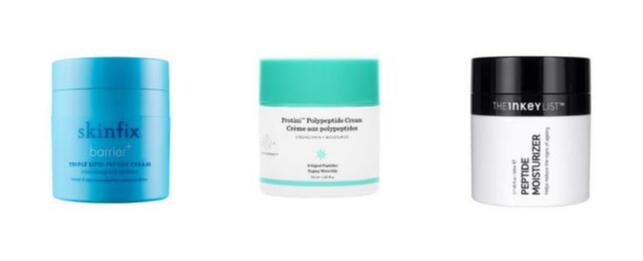 Skinfix Peptide Cream vs. Drunk Elephant Polypeptide Cream vs. INKEY List: Which is Best for You?
A good anti-aging moisturizer will not only provide moisture for the skin but will provide peptides to help counteract the skin's natural aging process. Peptides are the building blocks of collagen and elastin fibers that are found in our skin. They're short chains of amino acids, and can tell the body to produce even more collagen. Extensive scientific research has proven that peptides can support your skin on multiple levels, for example firming, soothing and hydrating the skin. Here , three cult favorites of peptide moisturizers in the market are Skinfix Barrier+ Triple Lipid-Peptide Face Cream, Drunk Elephant Protini Polypeptide Moisturizer, and The INKEY List Peptide Moisturizer. So which is the best for you? Below, we will make a comparison to help you choose.

[[copyrightcover:editor lucia]]
| Skinfix Barrier+ Triple Lipid-Peptide Face Cream
Google Users Rating: 4.5/5
Sephora: $52 (up to 5% cashback)
Kohl's: $52 (up to 3% cashback)
JCPenney: $52 (up to 3% cashback)
[[copyright:sephora.com]]
Skinfix Barrier+ Lipid-Peptide Cream is a rich, emollient facial cream that helps to immediately nourish dry skin. This 95% naturally-derived formula contains a peptide-protein blend (to support your barrier and protect against free radicals), lily root extract (to tighten, reduce water loss, and hydrate), as well as Skinfix's propriety skin lipid complex, which is present in all the brand's offerings and infuses the formula with natural lipids and fatty acids.
| | |
| --- | --- |
| Pros | Cons |
| Clinically proven to moisturize and enhance radiance for healthy-looking, nourished skin | For oily, or acne-prone skin, this cream will be suffocating and may even cause breakouts |
| Protect you from being susceptible to damaged skin | |
| Tested & recommended by unbiased derms | |
| Vegan, gluten-free, and cruelty-free | |
| Formulated without fragrances, parabens, phthalates, or silicones | |
Review: If you aren't all that familiar with the brand, Skinfix is a "clean clinical" skincare brand focused entirely on skin barrier health. Skinfix promises that all of their products are tested and recommended by real dermatologists—and the brand's bestselling Barrier+ Triple Lipid Peptide Cream is no different. The texture is very thick and rich and feels extremely nourishing from the get-go. If your skin is feeling dry and thirsty, it will feel massive relief upon initial application, and even better as the day goes by.
Money Saving Tip: If you like online shopping, don't forget to sign up at Extrabux!(What is Extrabux) , then you can enjoy up to 9% cashback on your purchase from Extrabux! Sign-Up Bonus: Free to join it & get $20 welcome bonus! Student Benefits:As long as you are a student at school, you can get a free whole year long VIP Card worth $199.
| Drunk Elephant Protini Polypeptide Moisturizer

Google Users Rating: 4.4/5
Sephora: $68 (up to 5% cashback)
Space NK: $68 (up to 7% cashback)
Cult Beauty: $62.93 (up to 7% cashback)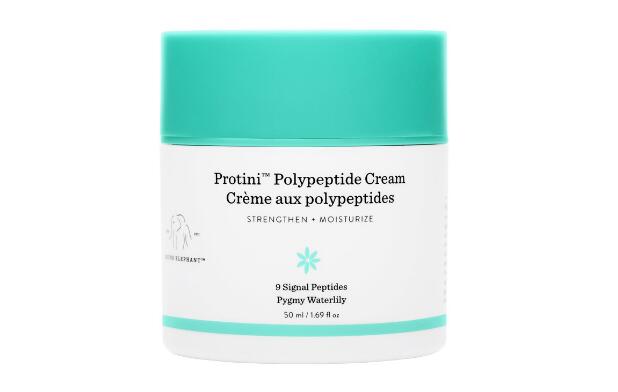 [[copyright:drunkelephant.com]]
Packed with proteins and nutrients, this lightweight water-gel cream is the perfect solution to protect your skin and prevent signs of premature aging. Formulated with a complex of 9 signal peptides, pygmy waterlily stem cell extract, soybean folic acid ferment extract and acetyl glutamine, Drunk Elephant has, with this moisturiser, designed a powerhouse product that revives depleted and tired skin to its former glory. Watch as your complexion quickly becomes firmer, stronger and more hydrated.
| | |
| --- | --- |
| Pros | Cons |
| Acts to repair and rejuvenate the complexion | Out of a lot of people's budget |
| Minimizes the look of wrinkles, fine lines and areas of sun damage | Cannot use too much of it or else it will feel way too heavy on the skin |
| Leaves skin feeling strengthened and moisturized | |
| A pH level of 4.0 makes the cream extremely gentle on the skin | |
| Free from fragrance, silicones and essential oils | |
| Vegans & cruelty-free | |
Review: Protini is a lightweight moisturizer for oily to dry skin types. It is also suitable for people with sensitive or acne-prone skin, as it is not likely to cause irritation on the skin. It absorbs quickly, and wears nicely under makeup, making it an idea addition to a morning skincare routine. If you're in the market for a good moisturizer, this could be a great option. It all depends on what your budget is.
| The INKEY List Peptide Moisturizer
Google Users Rating: 4.1/5
Sephora: $14.99 (up to 5% cashback)
Feelunique US: $17.99 (up to 9% cashback)
Boots: £14.99 (up to 3% cashback from Extrabux)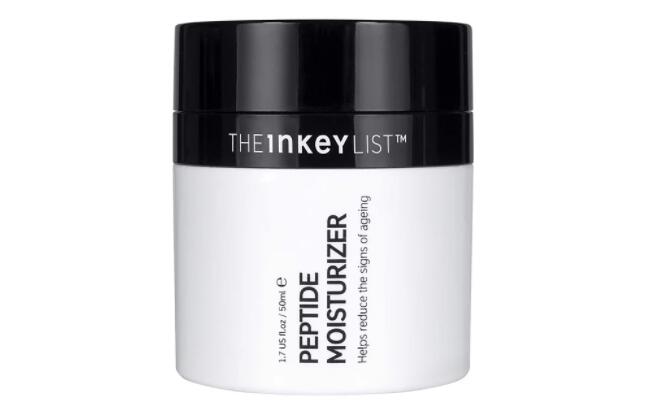 [[copyright:sephora.com]]
A rich, daily, age-defying moisturiser uniting two forms of peptides to support skin's natural proteins, helping to keep skin looking healthy and youthful. 2% Royal Epigen P5 works to even skin tone and stimulate skin renewal for increased smoothness. 1% Hydrating Peptide Solution supports the skin barrier, which keeps the skin's acid layer balanced and helps defend against environmental aggressors.
| | |
| --- | --- |
| Pros | Cons |
| Supports natural collagen to help improve the quality of the skin | Peptides are at the bottom of the ingredient list |
| Lightweight cream spreads easily, absorbs quickly | It's not going to be as potent as Protini in improving the skin tone |
| Airless jar packaging helps keep the peptides and natural ingredients stable | Acneic and oily skin types cannot expect to wear this as heavy as it is |
| Cruelty-free, fragrance-free, paraben and phthalate free | |
Review: Housed in an airless jar that's easy to use, Peptide Moisturizer's lightweight cream texture is best for normal to dry or combination skin. It glides over skin, absorbs quickly, and the packaging keeps delicate ingredients stable during use. The Peptide Moisturizer from The INKEY List is a very decent daily moisturizer. It delivers on its promise regarding hydrating the skin at a very reasonable price.