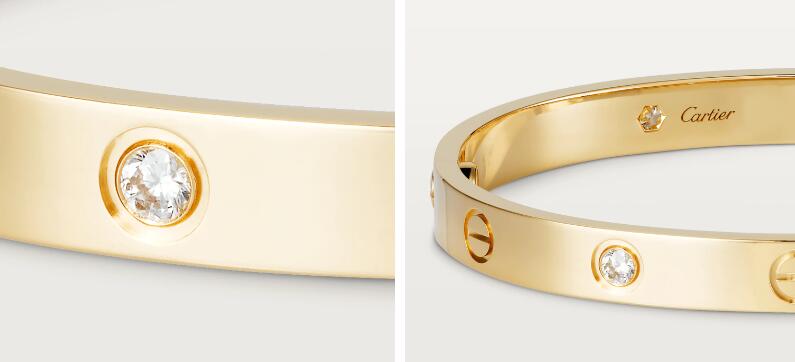 Cartier Love Bracelet Fake vs Real Guide 2022: How to Spot a Fake?
Cartier Love bracelets are one of Cartier's most iconic pieces of jewelry. They were first introduced in the 1970s and have become one of today's most desirable pieces of everyday jewelry for both men and women. The Cartier love bracelet is also the luxury accessory with most counterfeits and fakes on the market. Since Cartier does not engage in authenticity processes anymore, it is up to you to do all you can to ensure you get your hands on an original piece. How can you tell the difference between a real Cartier Love bracelet and a fake? Where is the serial number on Cartier Love bracelet? In this Cartier Love bracelet fake vs real guide, I will help you to spot a fake Cartier love bracelet from an original one.

[[copyrightcover:cartier.com]]
1. The Overall of Cartier Love Bracelet
Aldo Cipullo designed the Cartier Love bracelet originally in 1969 for the brand Cartier. The LOVE bracelet is a flat bangle studded with screws that locks to the wrist. Its screw motif and famous locking technology are truly timeless design signatures, while its oval shape ensures a close but comfortable fit to the wearer's wrist.
The locking mechanism consists of two functional screws found on each side of the bracelet. Opened and fastened with a screwdriver, the piece serves to sanctify inseparable love. The bracelet has a unisex design. The edge is round and smooth.
[[copyrightcover:cartier.com]]
2. The Materials of Cartier Love Bracelet: Metal & Diamon
1) As one of the most prestigious jewelry houses in the world, Cartier only uses top-notch materials in their products. Love bracelets are exclusively made in 18k yellow, white, or pink gold, as well as 950 platinum with only real diamonds embedded in the original creation. Furthermore, all gemstones are of course real diamonds.
2) The first step is identifying metal type and purity by searching for said stamp and gold hallmarks. Make sure that both metal type and karat type match the stamps. The inside of an 18-karat gold bracelet will be stamped with the number 750 - meaning that the alloy is 75 percent gold. Platinum bracelets will be marked with 950, indicating that the bracelet is 95 percent platinum.
3) The karat type should always be mentioned on both halves of the bracelet.The Love bracelet always features either 1, 4 or 10 diamonds, which are set with brilliant-cut, weighing approximately 0.1 ct each. Apart from the pure gold bracelet, which has no diamonds at all.
4) If you have a version in sterling silver, it's not a real Cartier. Find one that's plated or tarnishing? It's a fake too.
[[copyrightcover:cartier.com]]
3. The Stamps/Hallmarks of Cartier Love Bracelet
1) Hallmarks are codes that provide insight into your jewelry piece's trademark, ID numbers, and material. Cartier's modern Love bangles are stamped not only with serial numbers, but with the Cartier logo and copyright, the 18kt gold 750 stamp, and a hallmark.
2) The "Cartier" signature and all other engravings are always very clean and featured in a specific font, which may vary depending on the year of production.
3) Every Cartier Love bracelet is stamped with a hallmark that indicates the metal quality. Love Bracelets made out of 18K gold are stamped with 750,18K or sometimes both numbers, and 950 for Platinum bracelets. The oval bracelet will also be stamped inside with its diameter, in inches: 16, 17, 18, 19 or 20.
4) Any shoddy finish, unequal inscription, or even smudged engravings can never belong to an real Cartier bracelet.
Saving Tip: If you like online shopping, don't forget to sign up at Extrabux!(What is Extrabux) , then you can enjoy up to 30+% cashback on your purchase from Extrabux! Sign-Up Bonus: Free to join it & get $20 welcome bonus! Student Benefits:As long as you are a student at school, you can get a free whole year long VIP Card worth $199.
Extrabux.com cooperates with many merchants, such as: Walmart (Up to 4% cashback), Sephora(4% -5% cash back), Moosejaw (5% -6% cash back), LOOKFANTASTIC (Up to 10% cash back), Sam's Club (Up to 15% cashback), Norton(Up to 20% cashback), Microsoft (Up to 7% cash back) and so on. You can save on buying daily necessities, fashion, beauty, electronic products, broadband installation, mobile communication, air tickets, hotels and other aspects of life!
4. Cartier Love Bracelet Serial Number
1) Love bracelets didn't originally have serial numbers included with them, but due to the large number of counterfeits that were created, the company began engraving each bracelet with a unique number that is kept on file for proof of authenticity.
2) Each Cartier jewel features a serial number which is unique to that jewel. There are no Cartier jewels with the same serial number. The format of the serial number has changed over the years as production and popularity has increased. They can be composed by the following:
5 digits and 1 letter (12345 A)

2 letters 4 digits (example AA 1234)

3 letters and 3 digits (example ABC 999). This format has recently been introduced.
5. The Weight of Cartier Love Bracelet
A genuine Cartier Love bracelet weighs 30 to 38 grams, depending on the design. As a point of comparison, a standard 60-watt lightbulb lands in the middle of that range, at about 34 grams. When you compare the original Love bracelet to a forgery, the fake will be lighter.
6. The Screws of Cartier Love Bracelet
1) Pay close attention to the screws. On newer designs, these should be stamped perfectly into the metal, horizontally aligned and evenly spaced. Older versions had screws that were fully removable, but people lost them easily. So, Cartier incorporated screws as design elements directly in the bracelet. Their slots should all be sharp and uniform.
2) The real Cartier Love bracelet has screw caps with the same crisp stamping as the rest of its details. The screws should turn easily with the screwdriver. When you see a fake Cartier Love bracelet, the sides have a curvature that makes it appear more round. The screws are also much more difficult to open.
7. The Box and Certificate of Cartier Love Bracelet

1) The real Cartier bracelet came with a red Cartier Box, with the word Cartier written in gold in the middle of the box and inside of it. The material used around the bracelet is a high-quality, super-soft suede.
2) Fake Cartier is made of poor-quality materials for the red box. The boxes, certificate, and the pouch for the fake love rings are using poor quality materials, in off colors.
3) Original Cartier products come with manufacturer documents that confirm the style, the serial number, the store purchased from, and the date of purchase. Besides, authentic certificates are not pure yellow – they have that retro-kind of classy finish.
Where To Buy New And Second-hand Cartier Love Bracelet The Cheapest?
Cartier Love Bracelets are available in Hermès boutiques worldwide. And you can also get a second-hand and vintage Cartier Love Bracelets on some resale websites! Sign up at Extrabux.com, you can get up to 5% cash back on your purchase at these sites!
walmart.com (Up to 4% cashback)
harrods.com (4-5% cashback)
Secondhand Cartier Love ring
vestiairecollective.com ( Up to $10.5 cashback)
Read more:
Hermes Clic Clac Bracelet Fake vs Real 2022: Tips to Spot Fake HERMÈS Bracelet!
Gucci GG Marmont Card Case Wallet Fake vs Real 2022: How to Tell if a Gucci Wallet is Real?
Burberry Trench Coat Fake vs Real Guide 2022: How Can You Tell if It is Real?
Nike Dunk Sneakers Real vs Fake Guide 2022: How Do I know if My Nike Dunk are Fake?
Hermès Belt Original vs. Fake Guide : How to Know if Hermès Belt is Fake?
Hermes Oran Sandals Fake vs Real 2022: How can You Tell if Hermes Slippers are Real?
Hermes Evelyne Bag Real vs Fake Guide: How to Spot a Fake Evelyne Bag?
Hermès Lindy Bag Fake vs Real Guide: How to Authenticate Fake Hermes Lindy? (Sizes + 9% Cashback)
Hermes Birkin Bag Real vs. Fake Guide: How to Authenticate A Birkin?
Hermes Kelly Bag Real vs Fake Guide: How To Authenticate A Fake? (Sizes+7% Cashback)
Hermès Constance Real vs Fake: How To Spot A Fake Constance Bag?
Gucci Horsebit/Brixton Loafers Fake vs Real 2022: How to Tell if Gucci Shoes are Real?
Salvatore Ferragamo Shoes Real vs Fake Guide 2022: How Can You Tell Fake Ferragamo Shoes?
Gucci Ace Sneaker Fake vs Real 2022: How to Tell if Your Gucci Sneaker are Real?
Louis Vuitton Belt Fake vs Real Guide 2022: How Can You Tell if a LV Belt is Real?
CELINE Luggage Bag Real vs Fake Guide 2022: How to Spot a Fake CELINE Luggage Bag?
Gucci GG Marmont Bag Authentic vs Fake Guide: How to Tell a Real from a Fake? (Sizes+Sale+7% Cashback)
CELINE Classic Box Real vs Fake Guide 2022: How to Spot a Fake Bag