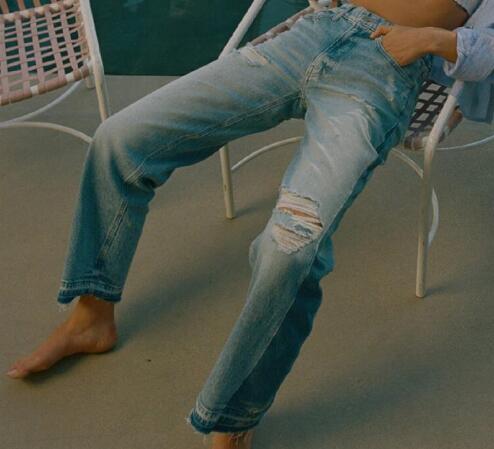 Lucky Brand vs. Levi's vs. 7 For All Mankind vs.True Religion: Which Brand of Jeans is the Best?
Jeans are comfy and chic and can be dressed up or down. This's why it's adored as a fashion staple. The best jeans brands for women and men provide a suitable fit, style, and comfortable wear for each individual. Lucky Brand, Levi's, 7 For All Mankind and True Religion are four famous jeans brands in the market today, which one is the best? Is Lucky Brand a good brand of jeans? Is Levi's a good brand? Is 7 For All Mankind a luxury brand? Is True Religion a good brand? In this comparasion guide, I will review these four brands from price, quality, and design.

[[copyrightcover:luckybrand.com]]
Lucky Brand History and Origin
Lucky Brand Jeans is an American denim company founded in Vernon, California in 1990 by Gene Montesano and Barry Perlman. Lucky Brand was founded with the aim to sell "great-fitting, vintage-inspired jeans" . The duo looked to a wide range of influences to craft its unique denim looks in a variety of washes and with rips, tears, and hardware that set it apart from its competitors.
Lucky also produces other apparel, including activewear, outerwear, T-shirts, and professional attire. In 2020, Lucky Brand was then acquired by SPARC Group, owner of brands like Brooks Brothers, Nautica, Aéropostale, and Forever 21.
[[copyright:luckybrand.com]]
Lucky Brand Jeans Price: women's jeans: $19.99 -118; men's jeans: $19.99 -119.40.
Lucky Brand Design & Style
"Our jeans are made for the free-thinker, the artist, the dreamer; they're made to dance, work, run, jump, play and rock 'n' roll (just like you)." Their inspiration doesn't just come from the rugged workwear of denim pioneers, but from the free spirit and laid-back lifestyle of their Southern California roots. Then they add authentic hardware, personalized touches, and playful details, and a true blue American icon was born. And now, as style returns to '90s nostalgia, Lucky Brand is dipping into its archives to resurrect those original era-defining styles.
Lucky jeans have a uniquely American style and offer a vast classic and modern selection for men and women. The selection includes skinny, slim, straight, wide-legged, and even boot-cut options. Lucky Legend is their limited-edition collection that pulls inspiration from its signature aesthetic. Tightly curated, expertly crafted, and although its look is vintage, the makeup of the denim in the capsule is all new. Another favorite that leans into vintage Americana is the Carpenter jean, which is made from a stretchy fabric and lands in a straight, relaxed fit. They have an old-school vibe, but the soft fabric and updated fit make them feel modern.
[[copyright:luckybrand ins]]
Lucky Brand Jeans Quality
The Lucky Brand jeans are expensive because they evoke a sense of sophistication to the wearer. They are not only made with unique elements, but they also have a great-fitting and vintage-inspired crafting. These jeans are a trendy statement that complements the casual look.
The lucky brand uses 100% cotton fabrics to manufacture their jeans. The fabric is firmer than regular denim fabrics. After making the jeans using 100% cotton, they put them through an enzyme wash to make the fabric softener.
Their fabrications include those with moisture-wicking technology to keep you comfortably dry all day and those with stretch to give you the freedom to move without restriction.
[[copyright:luckybrand ins]]
Where to Buy Lucky Brand the Cheapest?
luckybrand.com (3-4% cashback)
macys.com (2.5-3% cashback)
Saving Tip: If you like online shopping, don't forget to sign up at Extrabux!(What is Extrabux) , then you can enjoy up to 30+% cashback on your purchase from Extrabux! Sign-Up Bonus: Free to join it & get $20 welcome bonus! Student Benefits:As long as you are a student at school, you can get a free whole year long VIP Card worth $199.
Extrabux.com cooperates with many merchants, such as: Walmart (Up to 4% cashback), Sephora(4% -5% cash back), Moosejaw (5% -6% cash back), LOOKFANTASTIC (Up to 10% cash back), Sam's Club (Up to 15% cashback), Norton(Up to 20% cashback), Microsoft (Up to 7% cash back) and so on. You can save on buying daily necessities, fashion, beauty, electronic products, broadband installation, mobile communication, air tickets, hotels and other aspects of life!
Levi's Brand History and Origin
Levi's ,world's largest maker of pants, noted especially for its blue denim jeans called Levi's (registered trademark). Its other products include tailored slacks, jackets, hats, shirts, skirts, and belts, and it licenses the manufacture of novelty items. The company is headquartered in San Francisco.
The company traces its origin to Levi Strauss (1829–1902), a Bavarian immigrant who arrived in San Francisco in 1850 during the Gold Rush, bringing dry goods for sale to miners. Hearing of the miners' need for durable pants, Strauss hired a tailor to make garments out of tent canvas. Later, denim was substituted, and copper riveting was added to pocket seams. Above the back pocket, they would sew a leather patch that all could see with a drawing of two horses trying to pull apart a pair of jeans.
By the 1960s, Levi's and other jeans-once worn chiefly by American cowboys-had become popular worldwide. There are said to be the equivalent of 7 pairs of jeans per person in the world and the US produces up to 450 million of them alone every year.
[[copyright:levi.com]]
Levi's Jeans Price: Men's Jeans: $29.98 - $444.98; Women' s Jeans: $27.98 -$298.
Levi's Design & Style
From the beginning, Levi's denim overalls were made for cowboys, lumberjacks, and the working class man. Today, Levi's jeans are an American tradition known for their quality and array of styles. Levi's jeans still have that '60s casual and free appeal, but these evergreens can be worn in many different contexts and never look out of place. The popular Levi's jeans include 501, 502, 505, 510, 511, 551, etc.
The brand and product are rooted in authenticity and originality. The brand is a celebration of democratic and inclusive ideals.They have always been a brand that connects people. Cool city kids, hipsters, people from the heartland, moms in the suburbs. They all wear Levi's and they all wear them their own way. Of the inclusive and democratic nature of thier brand.
Levi's jeans come in many shades of blue, grey and black, but the indigo blue is their staple color and found in many of their jeans styles. Levi's also has much better designs for plus size women as they come in beautiful colors and fit really well.
[[copyright:levi.com]]
Levi's Jeans Quality
Levi's jeans are renowned for being long lasting and not prone to tearing easily or having the worn out look that cheaper jeans do. When it comes to quality, the higher price of Levi's is, in a way, an indication as to how well-made these jeans are. We are aware that just because the price is high does not guarantee the quality of the product, but in this case it does. Levi's unique advantages include the following: Waterless denim, Cottonized hemp, Recycled polyester denim, Soft Tencel Lyocell, Organic cotton. Many of these materials available in the stretch and non-stretch versions.
The stitching is also perfect and extremely durable and the fabric is smooth and very comfortable. The fit of Levi's is great and takes no back seat to any brand.
[[copyright:levi ins]]
Where to Buy Levi's the Cheapest?
levi.com US (0.8-1% cashback)
levi.com CA (3-4% cashback)
7 For All Mankind Brand History and Origin
Born in LA in 2000, 7 For All Mankind put premium denim on the map, establishing itself as the denim authority and bringing denim to the forefront of fashion. 7 For All Mankind was acquired by Delta Galil in 2016.
The 7 For All Mankind brand offers denim, sportswear and accessories collections for men, women and kids. The brand's elevated design and unparalleled fit quickly made 7 For All Mankind a favorite among celebrities, influencers and trendsetters around the world.
Today, 7 For All Mankind is a global brand sold across four continents at the world's most exclusive luxury department stores, high-end boutiques, over 100 branded retail locations, and at online retailers including the brand's own e-commerce site.
[[copyright:7 For All Mankind ins]]
7 For All Mankind Jeans Price: women's denim: $125 - $238; men's denim: $71- $348.
7 For All Mankind Design & Style
Founders and designers of 7 for All Mankind saw a void in the market and filled it, in City of Los Angeles that loved the casual look of jeans but also loved high-class luxury. By somehow managing to marry these opposing ideals, 7 For All Mankind did what no brand had done before. 7 For All Mankind is focused on innovation in design, fabric, finish and capturing effortlessly sophisticated California style.
7 For All Mankind jeans are characteristically tight-fitting and mid-rise. The denim collection uses various pocket embroidery designs. The signature logo is found on their various styles, including bootcut and low-rise jeans. Their A-pocket jean consists of an "A" stitched on the pocket and sometimes even incorporating Swarovski Crystals.
The Dojo is a trouser jean that kicks out at the knees and finishes with wide, figure-flattering hems often with stylized "7s" stitched on the back pockets. The Kate features V-shaped embroidery. It is not always possible to determine the cut or fit of a 7 For All Mankind jean by the pocket design alone.
[[copyright:7 For All Mankind ins]]
7 For All Mankind Jeans Quality
It was 7 For All Mankind that took jeans and made them into a luxury item worn by celebrities. Their name refers to the belief that every person should own at least seven pairs of jeans, one for every day of the week. The brand was one of the first to prove that jeans didn't have to be just another casual pair of pants by using high-quality material and adding a premium price tag.
By using higher quality materials and tailoring their jeans to have a less stiff, softer and more comfortable fit, 7 for All Mankind revolutionized denim to bring a premium product to everyone. However, at well over $100 a pair, it's not necessarily true that everyone can afford to wear them. This fact made them perfectly amenable to the celebrity culture and is what capitulated them to'designer jeans' status even though they are mass-produced.
[[copyright:7 For All Mankind ins]]
Where to Buy 7 For All Mankind the Cheapest?
7forallmankind.com (3-4% cashback)
farfetch.com (1.5-2% cashback)
True Religion Brand History and Origin
True Religion Brand Jeans is an American clothing company established in April 2002 by Jeff Lubell and Kym Gold and is based in Vernon, California. True Religion quickly became one of the go-to premium brands for A-listers around the world and was sold at top upscale department stores and specialty multi-brand boutiques. In 2009, True Religion was sold in about 900 boutiques and specialty stores in 50 countries on six continents.
Two years later, around its peak. Clothing retailers across the U.S. have been particularly hard hit by the economic shutdown due to the coronavirus pandemic. In 2020, stores had closed, stock had dropped, and True Religion was gearing up for declaring bankruptcy. True Religion has about 100 stores in the U.S now.
[[copyright: truereligion.com]]
True Religion Jeans Price: Mens Denim $59.98 -$194.25; Womens Denim: $54.98 - $179.25; Kids Denim: $24.98 $89.97.
True Religion Design & Style
Back in the early 2000s, America's True Religion was one of the coolest denim brands in international fashion. True Religion emerged onto the Los Angeles denim scene by blowing up the construction of the classic five-pocket jean. With its five-needle thread at two-stitch-per-inch process, their Super T stitch was instantly recognized for style that was unlike any other denim brand in the world. True Religion's designs soon caught the attention of the world's most iconic style leaders, and demand for denim grew rapidly.
Whether you are looking for a new pair of denim jeans, denim shorts for the warmer weather, or doubling down with a denim jacket, they have all bases covered. Explore the quality denim essentials for men, women, and kids and elevate your streetwear.
But as the time goes, "Most of the designers have gone into casualization, True Religion really didn't keep up with the cool factor. Premium denim has to keep their cool factor through collaboration and through influencers."
[[copyright:True Religion ins]]
True Religion Jeans Quality
True Religion offer quality and style that are bound to stand the test of time. Although these jeans are typically pricier than other brands. As their stitching evolved, True Religion became synonymous with quality craftsmanship to stand out. Their specialty denim fits, washes & treatments, were all designed with amplified details to grab attention at every turn.
Instead of adding stretch fabrics like other denim distributors ranging from Levi's to Stella McCartney, True Religion stuck with their jeans and T-shirt combination.
[[copyright:True Religion ins]]
Where to Buy True Religion the Cheapest?
truereligion.com (4-5% cashback)

Lucky Brand vs. Levi's vs. 7 For All Mankind vs. True Religion: which brand of jeans is the best?
Lucky Brand
Lucky's idea of good denim has always centered on craftsmanship. Lucky Jeans are carefully crafted with personalized touches and authentic hardware, making them look like the blue American icon. The jeans have premium features that make them more unique than the rest. Lucky jeans have a uniquely American style and offer a vast classic and modern selection for men and women.
Levi's

Levi's jeans come in many shades of blue, grey and black, but the indigo blue is their staple color and found in many of their jeans styles. Levi's tends to fit better and are also more stylish and look better overall. Length is always closest to reality in Levi's jeans. There is room for discussion however, and at the end of day it's all down to preference. If you're looking for a more stylized and unique look, Levi's has much more to offer by way of materials, styles and colors.
7 For All Mankind

7 For All Mankind is known for its clean, classic, and high-end designs. And with this, the brand is strongly inspired by the laid-back California lifestyle. They have one goal in mind: to create the perfect jean for women and men of all shapes and sizes. They take inspiration from all over the world, but always keep an eye out for the latest trends in denim fashion.
True Religion
True Religion jeans are known for their raw denim, quality craftsmanship. True Religion jeans are generally sewn and then distressed, or washed, to create unique patterns. But the brand's signature large stitching and flashy logos plastered on t-shirts are woefully out of style to many younger shoppers.
I'm sure you have found the one that you want! Sign up at Extrabux, then you can enjoy up to 5% cashback on your order!
Read More:
Supreme vs. Off-White vs. BAPE vs. PALACE: Which Wins the Streetwear Brand Showdown 2022?
Top & Best 12 Sneaker Apps/Websites for Raffles, Releases & Restocks in 2022
Prada vs. Gucci vs. Louis vuitton vs. Versace Bags: Which Luxury Brand is the Best? (Price, Quality, Design)
Top & Best 8 Classic Canvas Shoes That Will Never Go Out Of Style
Tommy Hilfiger vs. Nautica vs. Lacoste vs. Guess: Which Brand is the Best? (History, Quality, Design & Price)
Rothy's vs. Birdies vs. Tieks vs. VIVAIA Shoes: Which Brand is the Best? (History, Quality, Price & Design)
OOFOS vs. Hoka vs. Crocs vs. Birkenstock: Which is Best Suitable to You?
Balenciaga Triple S vs. Track vs. Gucci Rhyton: Which Dad Shoes to Choose in 2022?
Ralph Lauren vs. Polo Ralph Lauren vs. U.S. Polo Assn: What are the Differences?
Armani Exchange vs. Hugo Boss vs. Calvin Klein: Which Brand Is The Best? (History, Quality, Price & Design)
Brooks Brothers vs. Ralph Lauren vs. Men's Wearhouse vs. Jos A Bank: Which Brand is the Best?
Charles & Keith vs. Aldo vs. Pedro vs. Guess: Which Brand is the Best? (History, Quality, Design & Price)
Arc'teryx vs. The North Face vs. Eddie Bauer: Which Brand is the Best? (History, Quality, Design & Price)
Goyard St Louis vs. Louis Vuitton Neverfull vs. Longchamp Tote: Which Will Stand the Test of Time?
Bally vs. Salvatore Ferragamo vs. Tod's Shoes: Which Brand is the Best? (History, Quality, Design & Price)
Coach vs Tory Burch vs MCM Bag: Which Brand Is The Best? (History, Quality, Price & Design)
YSL Kate vs. Envelope vs. Sunset: Which YSL Bag is the Best Investment 2022?
Louis Vuitton Neverfull vs. Graceful vs. Artsy Review: Which of the Three Should Be Your First LV Bag?
CHANEL vs. Louis Vuitton vs. Gucci Bags: Which Brand Is The Best? (History, Design, Quality & Price)
Goyard Saint Louis vs. Artois vs. Anjou Tote: Which is the Best Tote to Invest in 2022 (Sizes + Price)